James Brand x Carryology Rover Capsule Collection Review
May 05, 2020
First impressions of the James Brand x Carryology Rover Capsule EDC…
Topline Summary
Set of three Everyday Carry (EDC) tools + a carrying pouch aimed at travelers (i.e. no knife blade)
Limited edition collaboration between Carryology and James Brand
Stylish design, appealing colourway and a (mostly) premium choice of materials
Either moderately priced or else slightly overpriced at $275.00 USD, depending on the premium one places on design
Actual tools vary in usability - you're paying for design rather than maximum functionality
Available on the James Brand site while supplies last.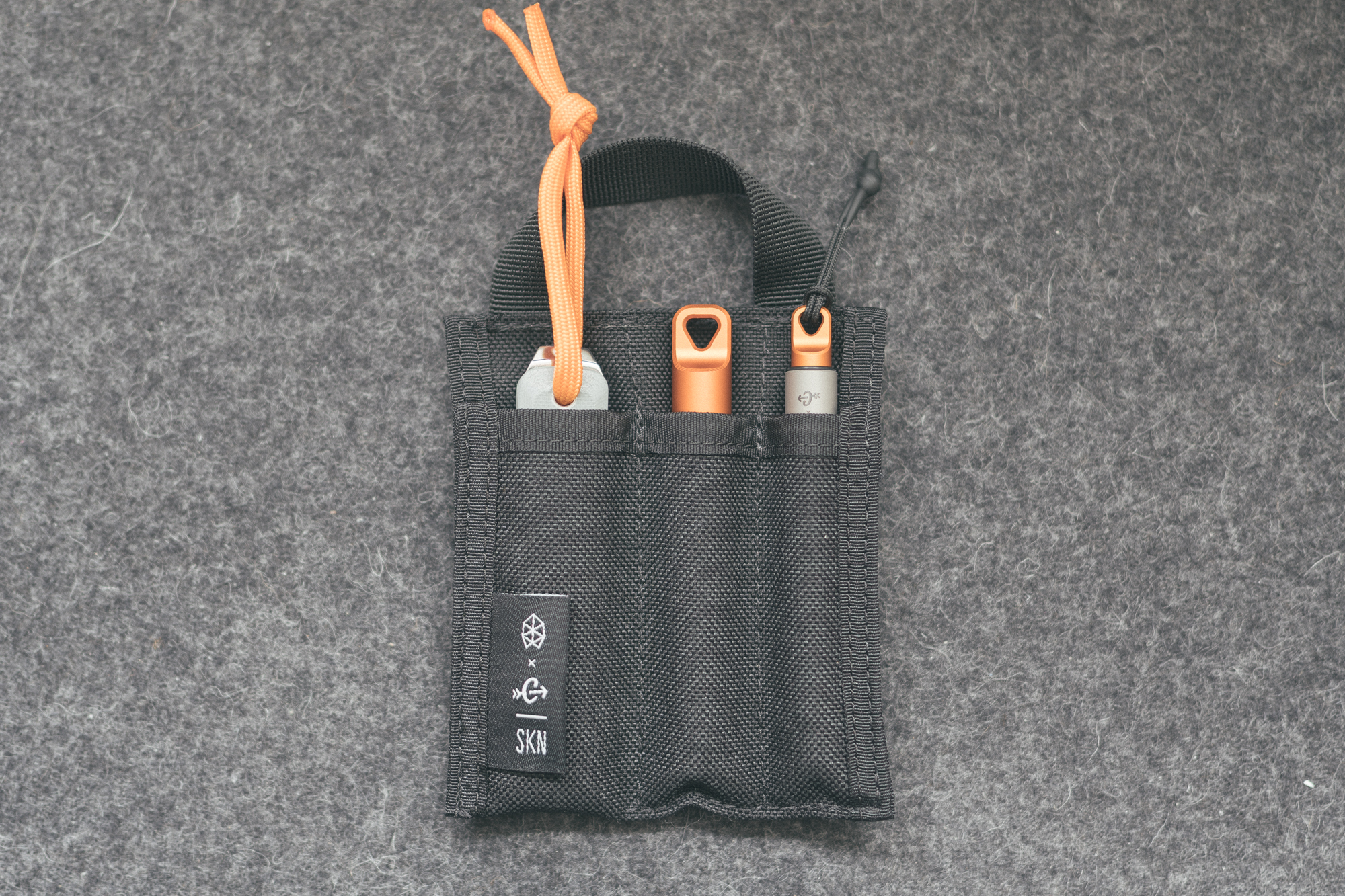 Overview
The Rover Capsule Collection is a collaboration between knife and tool maker James Brand and the carry-focused website Carryology. It ostensibly aims to serve as an "Everyday Carry" (EDC) set of tools for frequent travelers designed - in their words - "the tools you need when you're on the road, bouncing from tarmac to dirt tracks."
The collection consists of three tools and a carrying case, and retails for $275.00 USD on the James Brand site while supplies last.
Who is it for?
First and foremost, travelers living in a country where scissors are reliably allowed on carry on luggage and who place a high value on design over functionality. People looking for an EDC solution that specifically doesn't have a knife (either due to local laws, etc.) and also value design. People looking for a nice gift for others that fit into these categories.
Who is not for?
Anyone looking to travel internationally should either steer clear of this collection or be prepared to check it in (defying its raison d'etre) - outside the USA many countries don't allow scissors on carry ons. Also, anyone intending to use any of the main tools more than once or twice a week will be much better served with a cheap multitool or even $1 screwdriver and pen in terms of functionality. Along the same lines, folks who don't place a high price premium on design over function are likely to feel this collection is overpriced in terms of what it offers.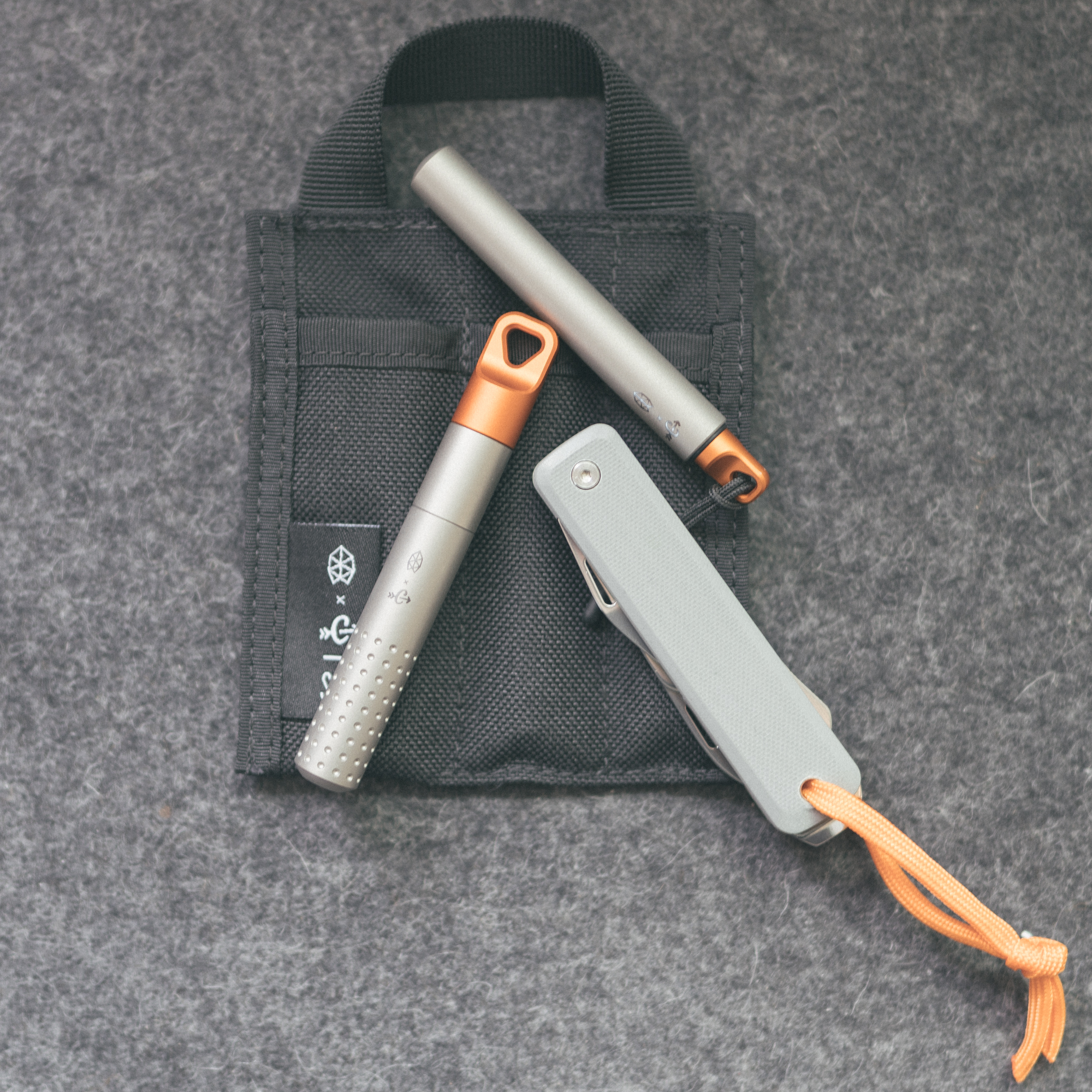 Skinth Solutions Carrying Pouch
The three tools in the collection slot into a custom-designed carrying pouch made by a company called Skinth Solutions. The idea is to have the collection together in a single place that can be moved easily from bag to bag (or pocket) as needed. The pouch is made of a 1000-D cordura nylon is quite similar to their "Parallel Pocket Panel" (P3), albeit slightly customized for the specific tools in the collection.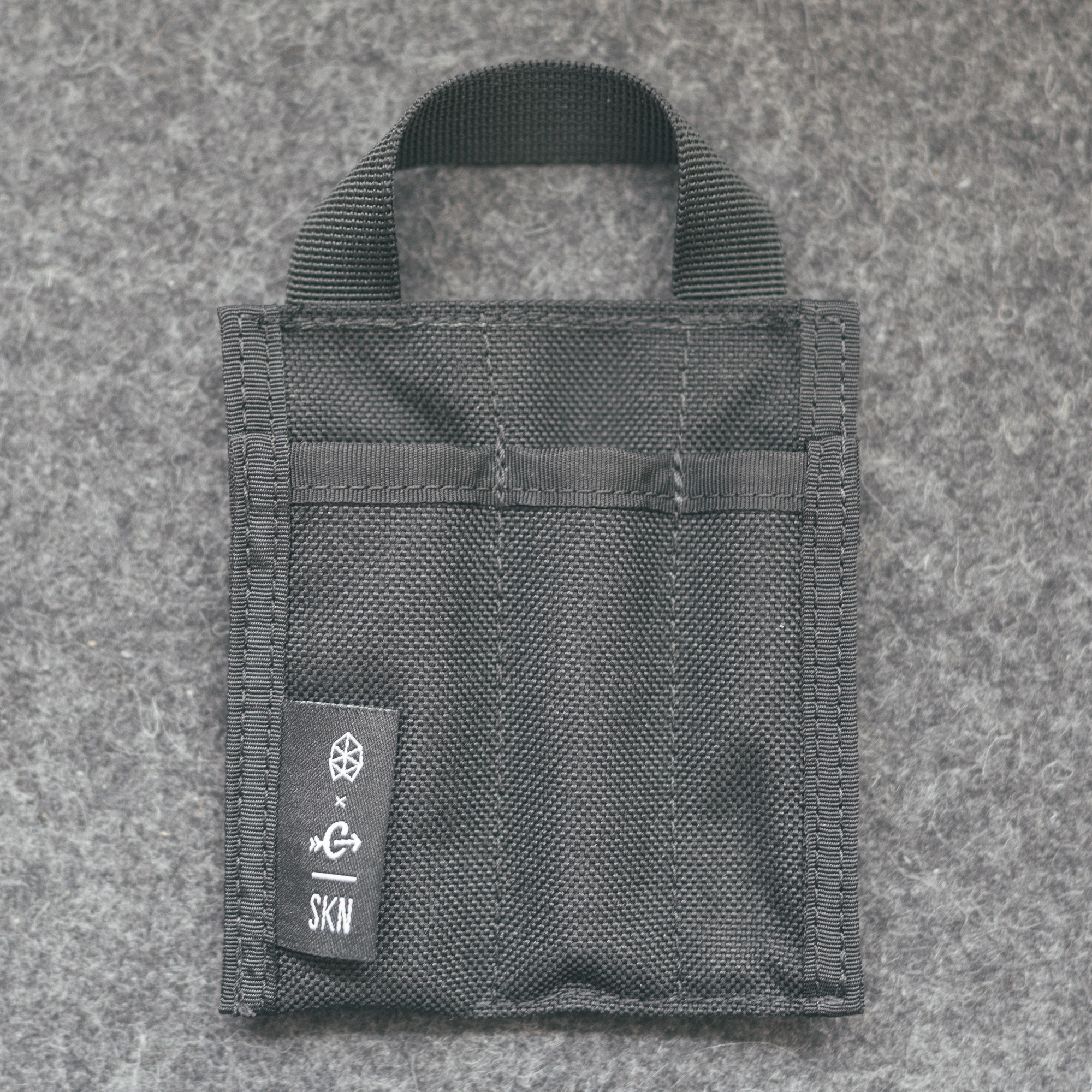 The pouch is a straightforward affair, featuring a single large hang/grab loop at the top, which is folded over and sewn in the back in such a way as to leave a small loop on either side through which a carabiner or piece of paracord can be fitted to give a few different carrying/securement options (although the loops are far too small to fit a belt through). The front of the pouch is devoid of decoration save for single hang tag featuring the James Brand, Carryology and Skinth logos.
Overall, there isn't much to like or dislike about the pouch. Perhaps the biggest criticism is that the colour scheme (and potentially material choice) seems incongruous with the rest of the collection - while the tools themselves are awash in smooth sleek lines, subtle modern grey, somber titanium, bright orange highlights and high-tech mixtures of matte and polished surfaces, the pouch itself seems much more… wanna-be tacticool-esque in its design and colors.
On the one hand, it's hard to fault the choice of 1000D Cordura for a tool carrying case, but did it need to be black? 1 It just looks like the kind of thing you would expect to find carrying a well-used Leatherman strapped to the front of a Goruck bag (except for the lack of molle on the pouch) than than carrying a special edition set of overly-design edc tools. There's definitely nothing wrong with the former (we own and use several different Leathermans and Gorucks) but it just doesn't really match the vibe of the rest of the collection.
The other minor criticism of the the pouch is the lack of capacity to carry any other tools that are often found on in an EDC kit - a couple of obvious omissions that immediately came to light are a flashlight and either a small notebook or way to make fire. For the former we resorted to clipping our tiny olight SR1 baton to the back (ugly, but semi-workable) and had to give up on the latter two.
We understand that leaving additional open slots would have raised other issues for a pouch that is supposed to be custom-designed for this collection so we don't consider this a major criticism but nonetheless it does lower the overall utility as a piece of EDC. (At the very least a mini-notebook slot on the back would have made a wonderful companion for the pen).
The Ellis Pocket Tool
The first tool in the collection is known as the "Ellis Pocket-tool." Based on the existing James Brand Ellis pocket knife and made out of Sandvik 12C27 stainless steel with G10 scales in a primer gray colourway and a bright orange nylon lanyard, it's probably the most controversial of the three tools in the set. What's so controversial about it?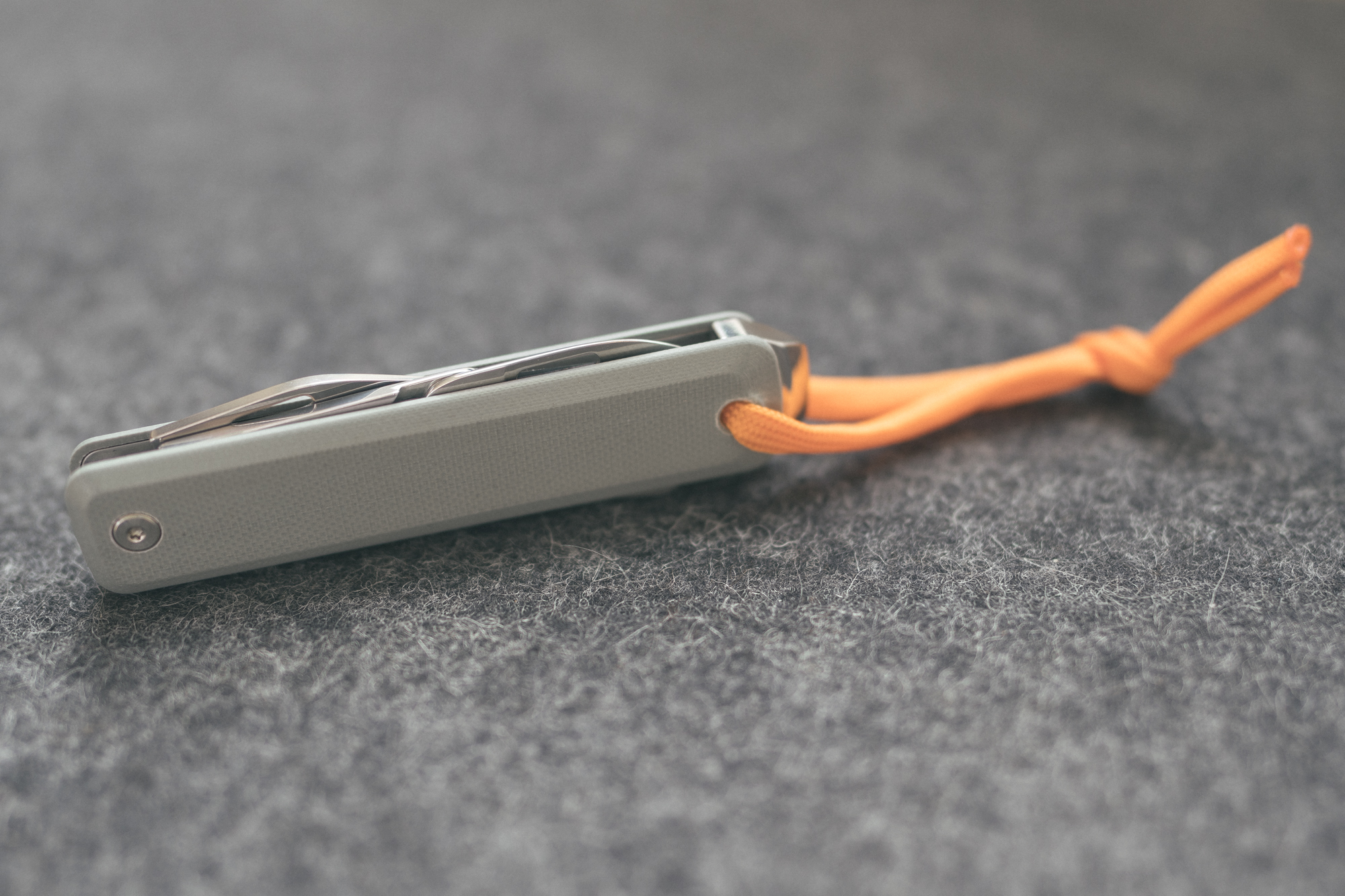 Well, for starters, it lacks a knife blade (hence the name "Pocket Tool"). Now this is stated up front as a design choice made to enable a "travelers EDC" - theoretically allowing this to be carried on to aircraft. However, the knife blade has been replaced with a small scissors, ostensibly so "you get 90% of the utility of a knife while being 100% ready to board a flight." The challenge comes in that many, many countries do not allow travelers to bring scissors on airplanes, and even inside of the USA, one is always at the capricious whims of the TSA2. So that means that for any kind of international travel one will almost certainly be packing this kit into their check-in luggage, and even inside the USA, how many people would be willing to risk having to throw away this tool at the security line if TSA is having a bad day?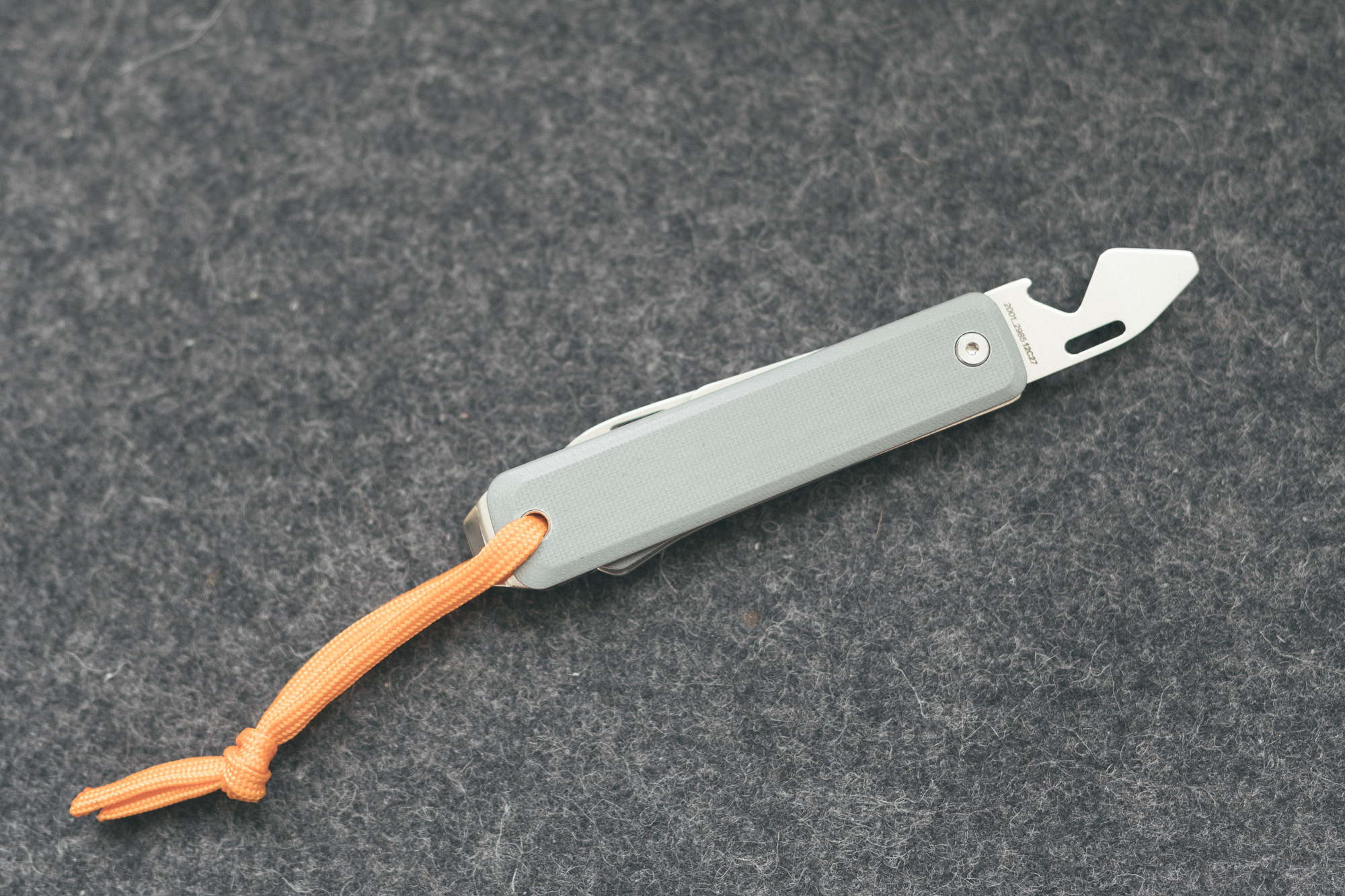 The second problem with this is that we imagine there is a strong overlap between the one-bag travel community and the folks in the market for a James Brand x Carryology traveler-focused EDC kit - so if you're one-bagging it, you don't even have check in luggage, thus bringing the entire raison d'etre for this collection.
On the other hand, if potential buyers in the market for this kit already know this up front and if they choose to purchase anyway (such as we did) then it has to be considered an informed choice. So let's examine the scissors that replaced the knife blade.
The scissors themselves are fine - while a first for the James Brand, they're largely similar to the the same type of tiny folding scissors often found in swiss army knives or other types of pocket tools. They're nicely machines, relatively sharp and have a nice little "JAMES" logo etched in one side. The spring is just okay, but also sticks out there in a very weird, pokey fashion. We wish for the price that TJB could have come up with a more refined solution.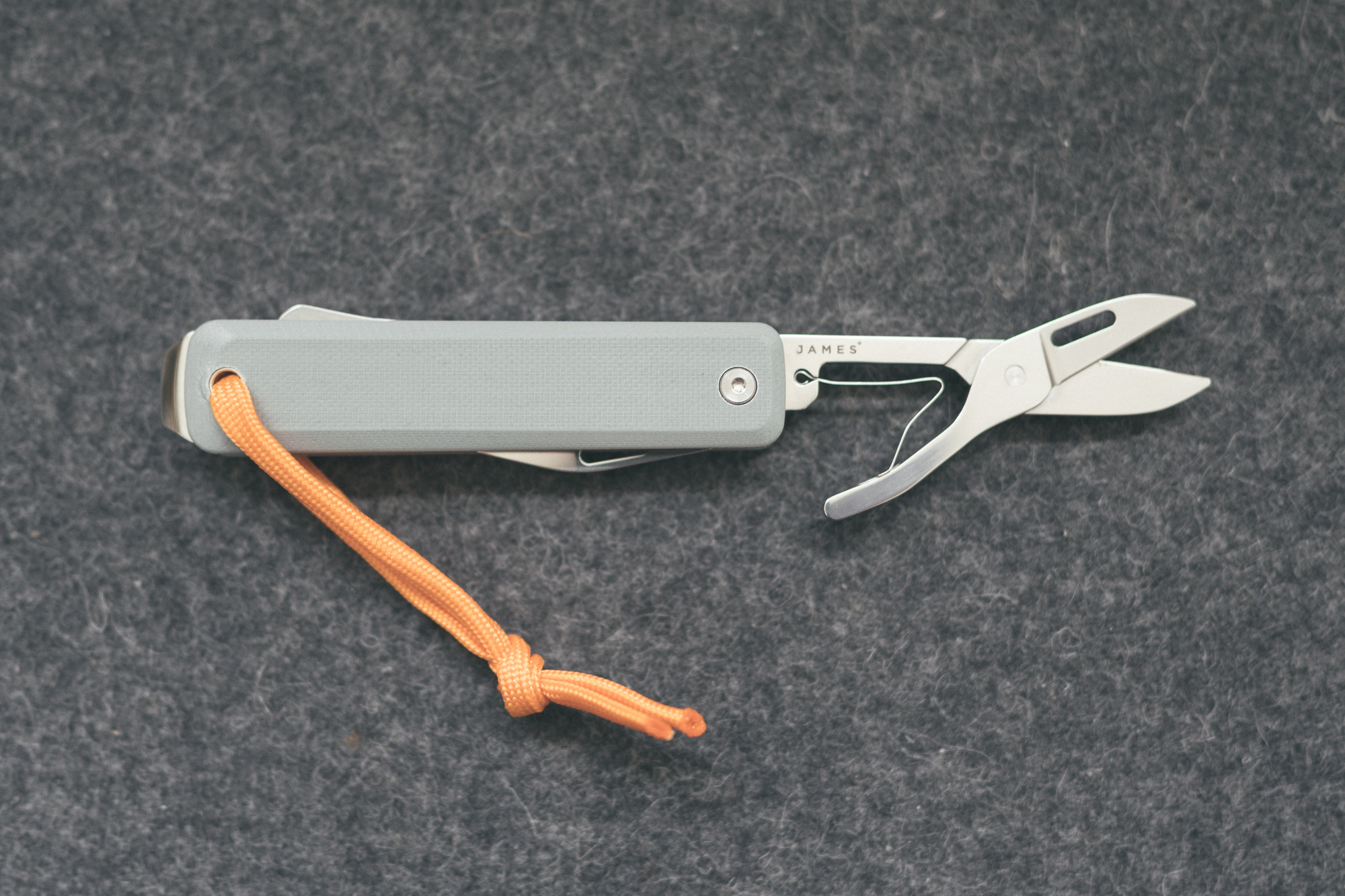 The scissors cut well enough for their size, but (and this is going to be a theme repeated throughout this post) if you're planning on using them more than maybe once in a while you will be far better served with a better pair of scissors - we would not want to be cutting much of anything for very long with these. And you can definitely forget about cutting anything thicker than a sheet or two of paper - it wouldn't feel very pleasant and we'd worry about breaking the relatively slight build of the scissors.
At least the scissors lock into place…?
The second tool in the Ellis is a locking straight-blade screw driver with a built in bottle cap. It's straightforward and functional, and the locking mechanism is useful when one really needs to apply some serious torque.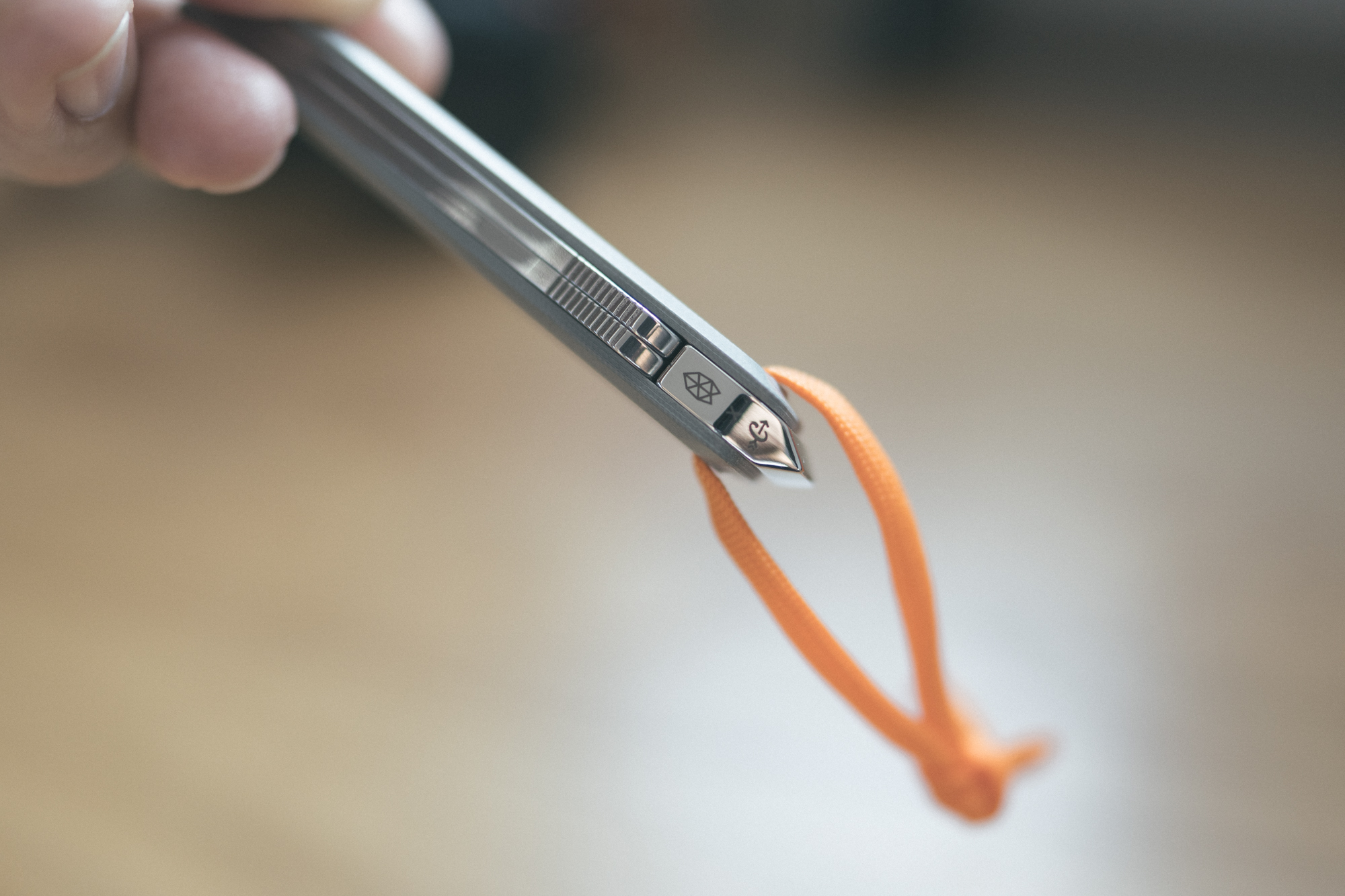 The third "tool" supposedly available in the Ellis is what James Brand refers to as their "All Things" (r) scraper and pry bar. Fun fact: it is useless as both a scraper and as a pry bar. The issue with this tool is that it is far too short, far too thick and far too rounded to be useful for prying or scraping almost anything. Given that pry bars/scrapers are some of the most common (and easiest) EDC or keychain-type tools to make it's mystifying3 how James Brand screwed this up so badly, especially on a tool this expensive.
A non-exhaustive list of things we were unable to do with this tool:
Scrape some packing tape that was stuck to the floor (too rounded and too dull)
Pry out a nail that was slightly sticking out from a board (too round, too fat, too short)
Slice open the tape on a package that had arrived at the house (too round, too fat, too dull)4
Pry open the plastic casing of a small aquarium pump that needed to be opened to clean out some junk that was stuck inside (too round, too short, too dull)
Scrape some glue that had dried on a desk surface (too round, too dull - it sort of worked, but it was leaving big dents on the wooden surface as well due to the steep angle required by the short stubby shape and amount of pressure required by the dullness - a sharper, flatter tool would have made short work of it without damaging the desk)
We really dislike this tool and feel James Brand is being disingenuous in even claiming this is a third tool for the Ellis as opposed to a design element. The fact that they have the gall to place a (r) next to "All Things" is particularly annoying - it should be called "No Things" given how useless it is.5
The Stillwell Pen
The second tool in the collection is a customised version of the Stillwell pen that normally retails for $85.00 USD on the James Brand site. Made of titanium the Stillwell is a small travel pen that changes from around 90mm in its closed state to 137mm in its extended state when opened for writing.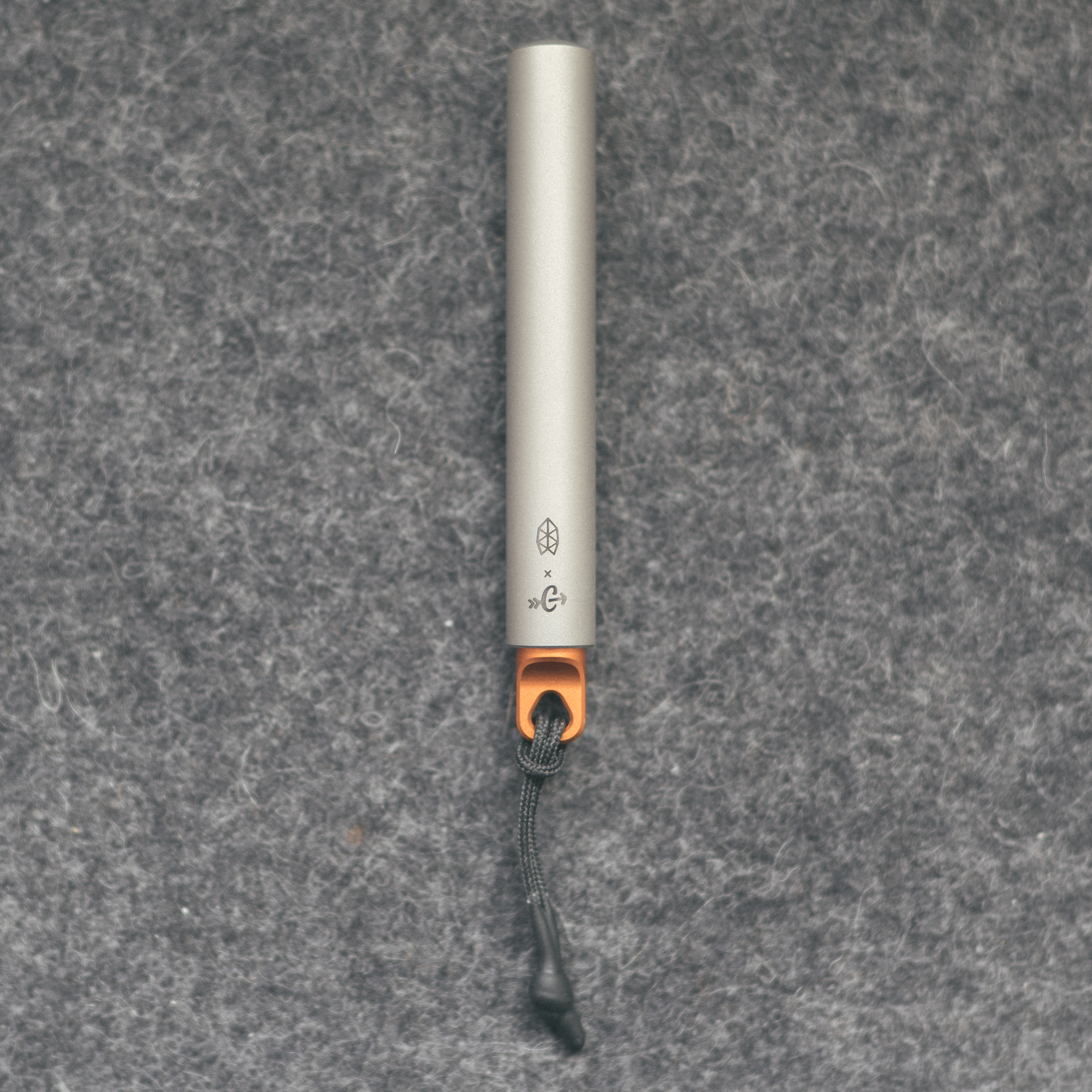 The Stillwell is probably our favourite tool in the collection due to its simple straightforward purpose and construction, relatively high usability and the fact that it addresses a travel need that we've often struggled with - having a small pen that is robust enough to handle the rigors of travel, small enough to be unobtrustive and easily carried, whilst being large enough to be functional, especially when trying to fill out customs documents on small bumpy tray tables or the sides of rocking boats and yet still have small bit of distinctive desing to them.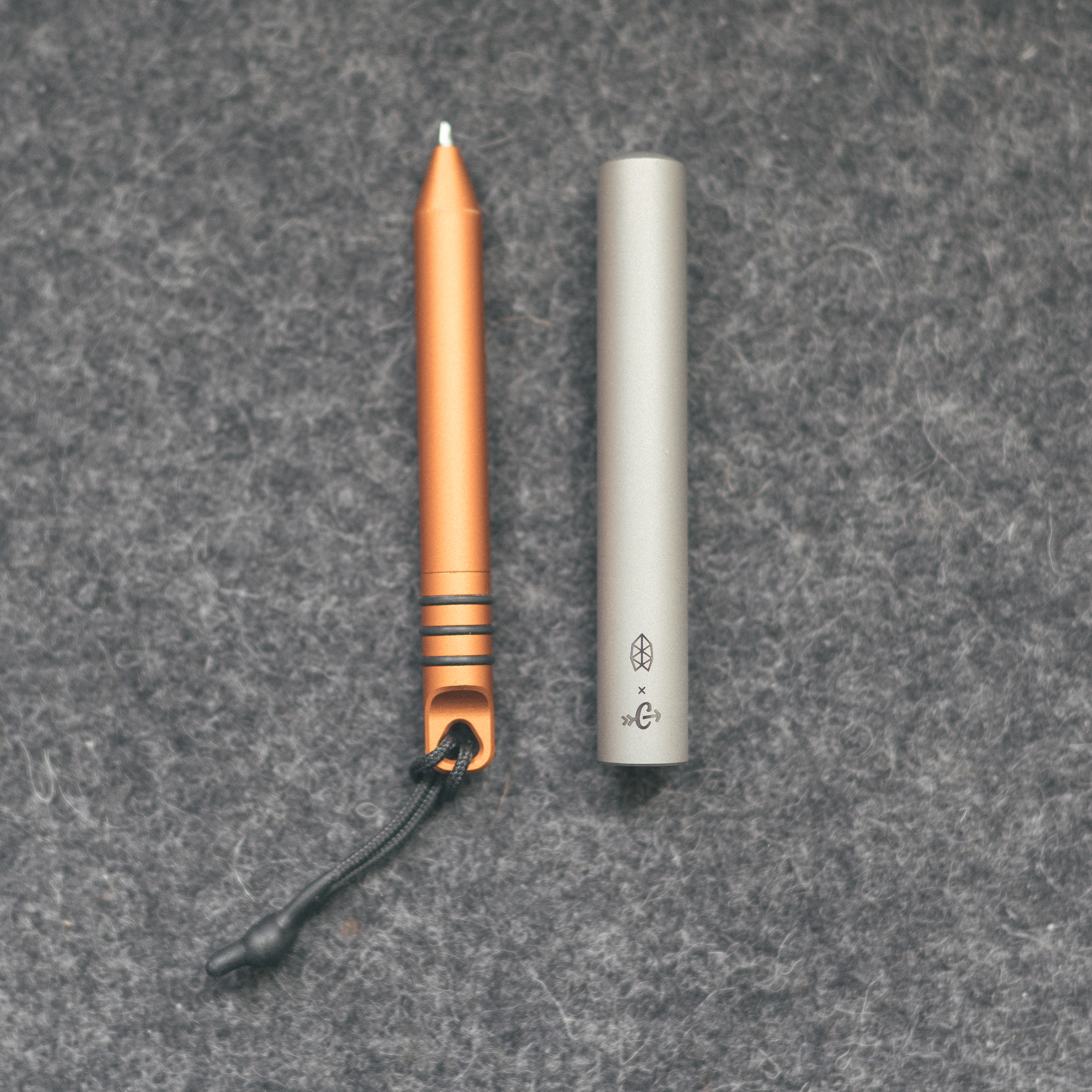 The pen is manufactured in titanium and is divided into two halves - a "pen" half in the Carryology orange colourway and a "barrel" half in dark grey with the logos of Carryology x James Brand lined up vertically towards the top. The entire pen portion fits inside of the larger cap portion save a small metal loop that extends at the end. When inserted, the pen is held tightly together with three small rubber o-rings and will definitely not come loose unless purposefully removed. So far the rubber rings have held up well, but given the nature of the material we wonder how well it will hold up over time.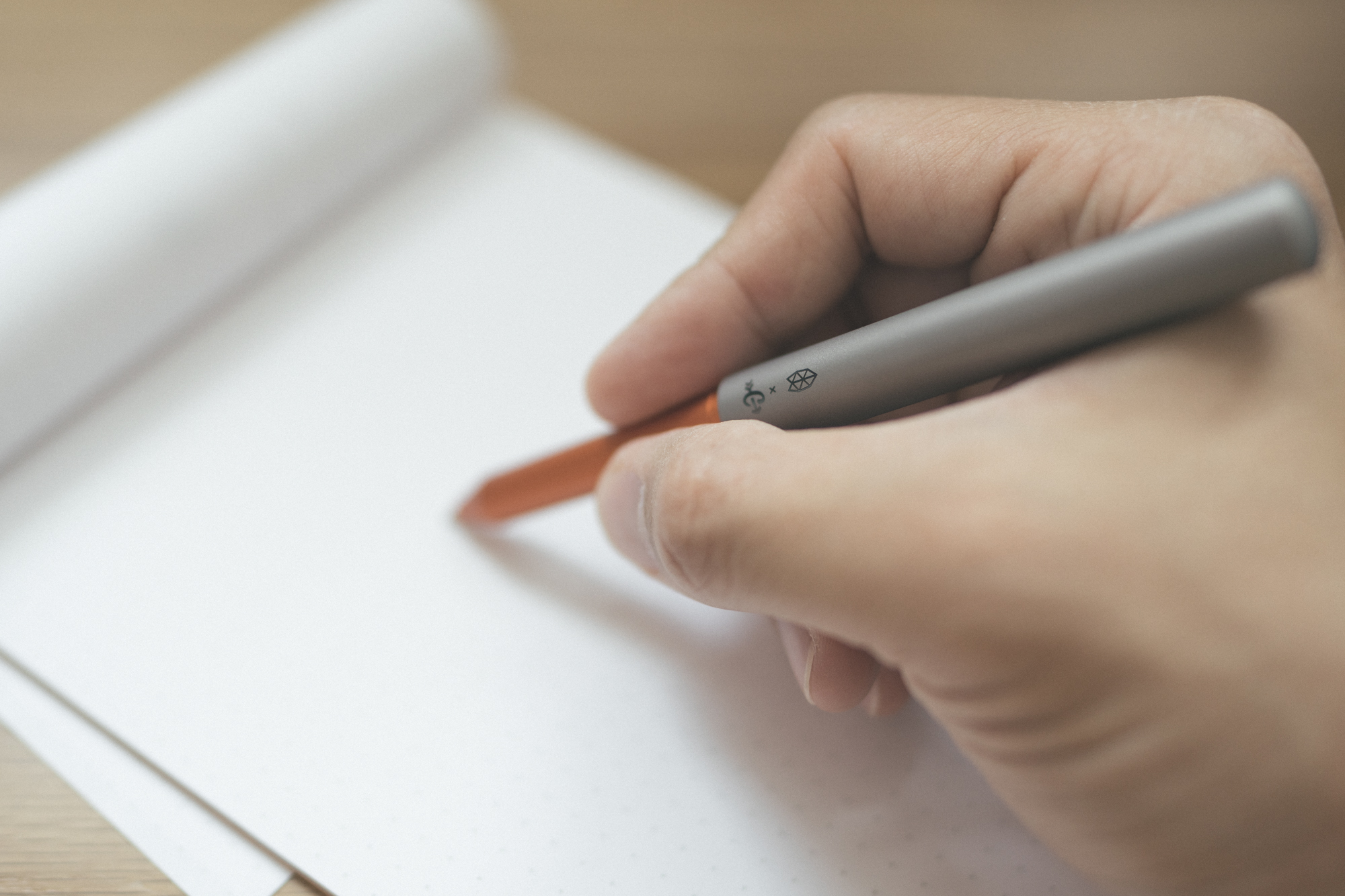 When closed, the overall package is small, dense and compact and easily slips into a pocket for everyday carry. The portion of the pen that extends out when closed has a small open loop and comes attached with a small slightly-stiff bit of cord with some heat shrunk tubing over the end.
When it comes time to write, one pulls the pen portion out of the barrel (the small cord and heat shrunk tubing help with pulling against the considerable resistance of the o-rings) and can either write with it as is (small, but functional given the girth) or else insert the tail-end of the pen into the "cap" portion of the barrel (here again, the stiffness of the small cord and heat shrunk tubing helps) to end up with a relatively well-balanced full-length pen.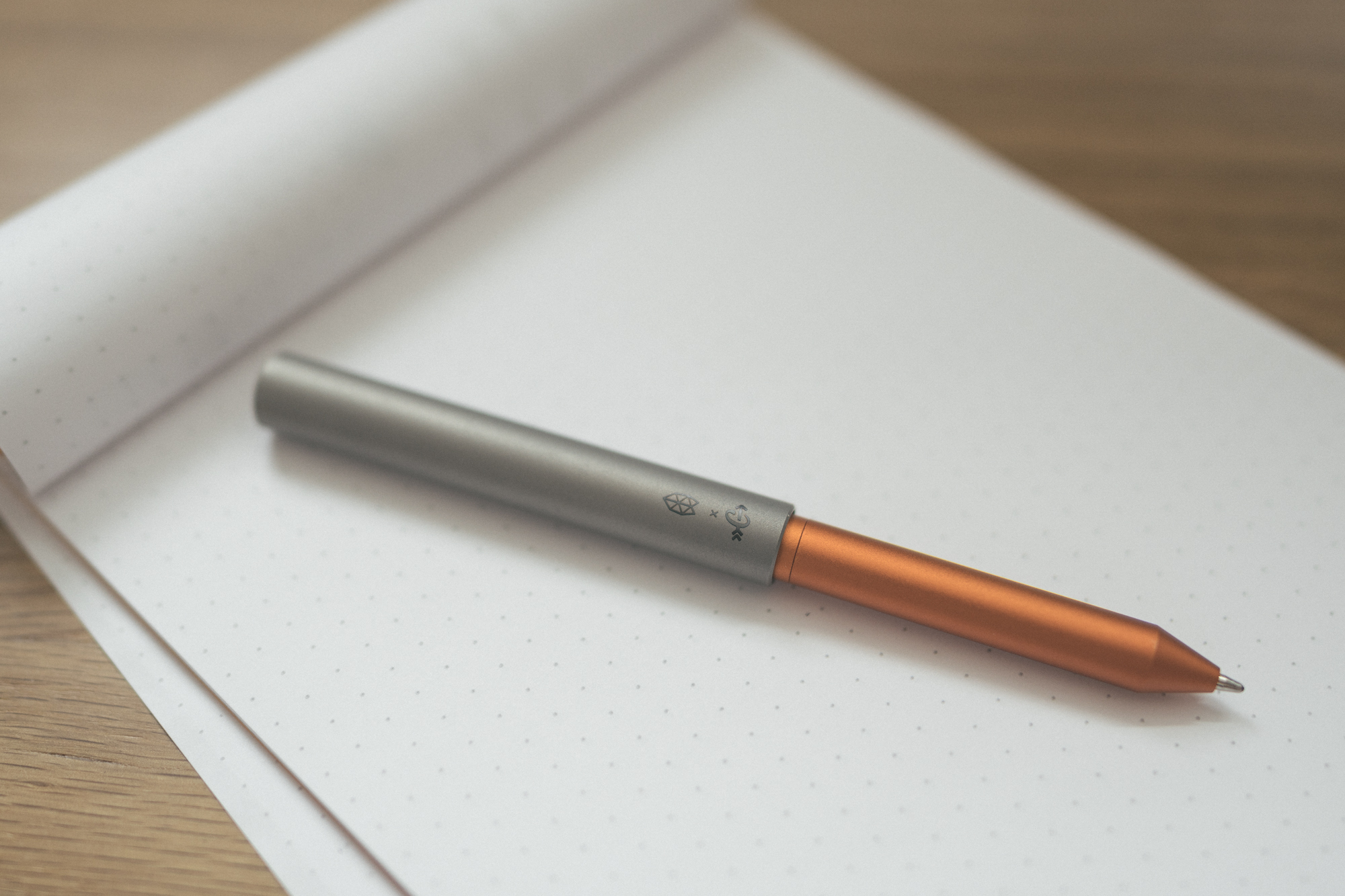 Speaking of the writing, the insert in the pen is a standard D1-style refill - it comes with a serviceable but unremarkable standard one, which we immediately swapped out for a fine-point 0.4mm Zebra black gel ink refill, a change which dramatically improved the pleasure of the writing experience in our experience.6 Refilling the pen is accomplished by unscrewing the machined cap (the section containing the rubber o-rings) on the pen portion of the barrel to reveal the internal refill.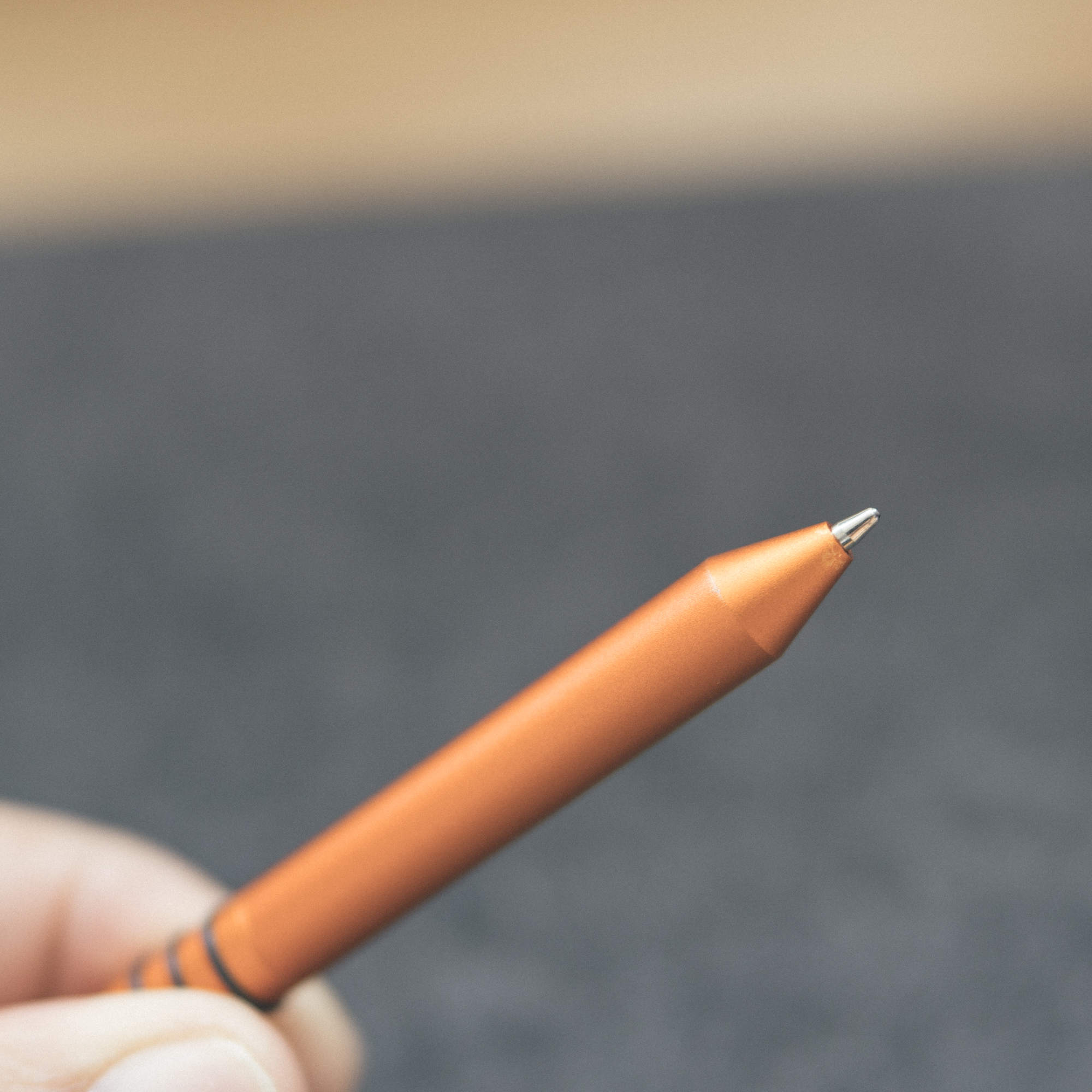 Overall we're quite positive on the Stillwell and feel it's the best tool out of the entire collection. We like the way the pen expands in size in a simple and straightforward way and think it does a good job of balancing the need for a full-sized pen when writing with the need for a small package when traveling/EDC carrying a pen. The design and colours look good to our eye and we enjoyed the smaller details such as the subtle chamfering around the pen loop, and the slight stiffness of the cord + tubing that helps with insertion into the barrel.
One the other hand, while not strictly a shortcoming, we did find ourselves wishing there were at least an option for a clip on this pen - we understand why this was left out given the design, but this means there is no way to carry this pen in any kind of open-bottom pen loop or else inside of something like a Bellroy Field notes cover or Notebook Cover. Additionally, our pen came out of the box with some noticeable discolouration / staining on the orange portion of the pen barrel, and some of the colour had actually chipped off to reveal the metallic colour underneath around the loop hole at the end of the pen - this despite our not using it very hard to date. Disappointing to see at this price point ($85.00 is a lot of money to pay for a non-fountain pen in our opinion).
The Cache River Bit Driver
The final tool in the set is the Cache River Bit Driver. Unlike the Stillwell and the Ellis, this tool is unique for this set and not (currently) available separately on the James Brand site. The Cache River is a combination screw/bit tool driver and portable "cache" for storing emergency cash, etc. Similar to the Stillwell, the main body is made of a dark grey titanium and the top portion of the tool features the Carryology orange accent colour. Whilst subjective, we think it looks good at least - we like the colourways and a small rotating portion at the top (described subsequently) provides for good "fidgetability" in the hand.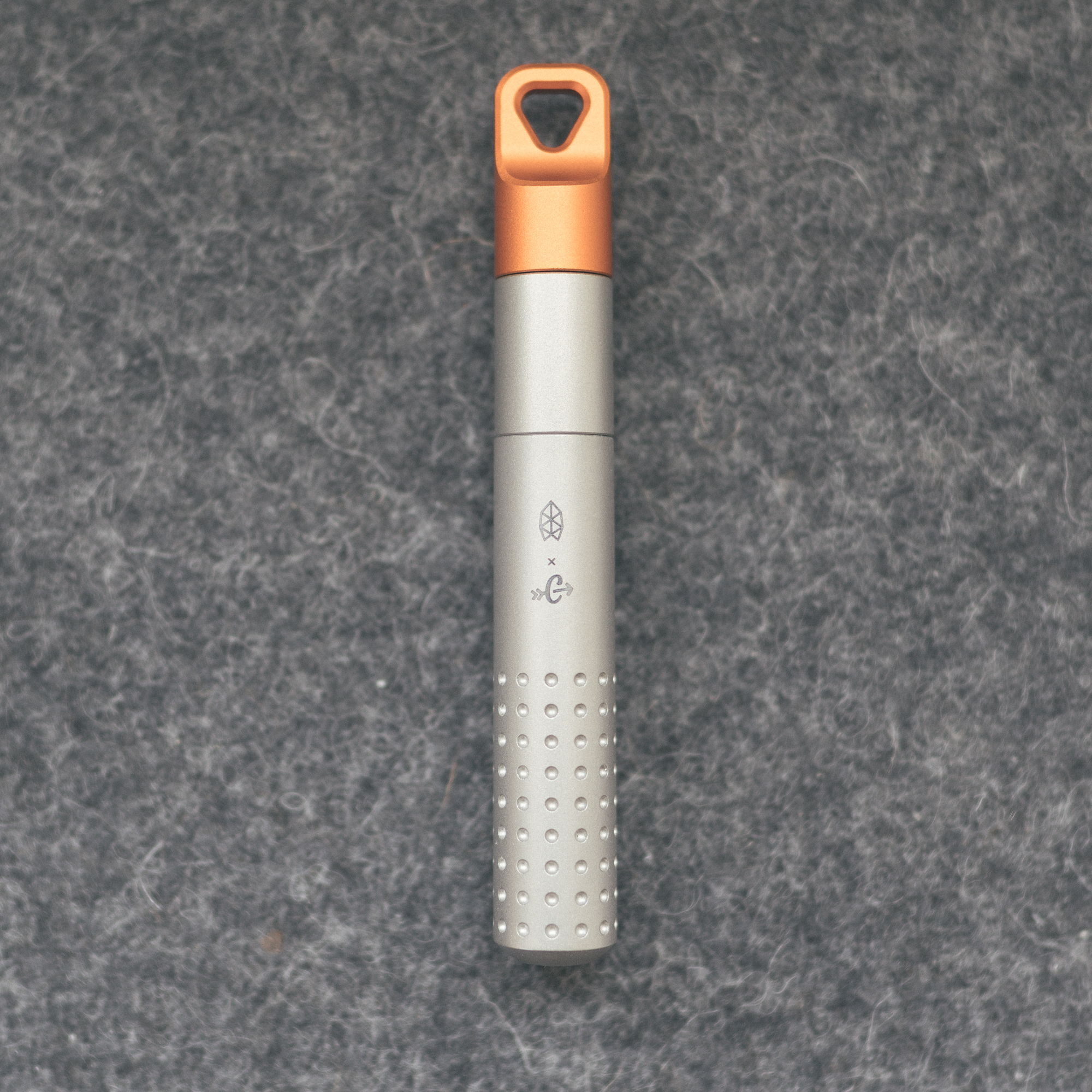 Also similar to the Stillwell, the tool divides into two "halves" though in this case the two halves screw together as opposed to press-fit. The joint features a small rubber o-ring that makes the inside essentially water proof. The size of the two "halves" is uneven - the larger, "bottom" half features the James Brand x Carryology logos, a dimpling pattern (ostensibly for grip) over half of the external surface and houses a magnetic hex bit receptacle that can take standard hexbit tools at its end. The top "half" is comprised of two portions joined together with a rotating joint - the bottom portion is plain dark grey titanium and the upper portion features the a machined chamfered key/lanyard loop in the Carrylogy orange colourway.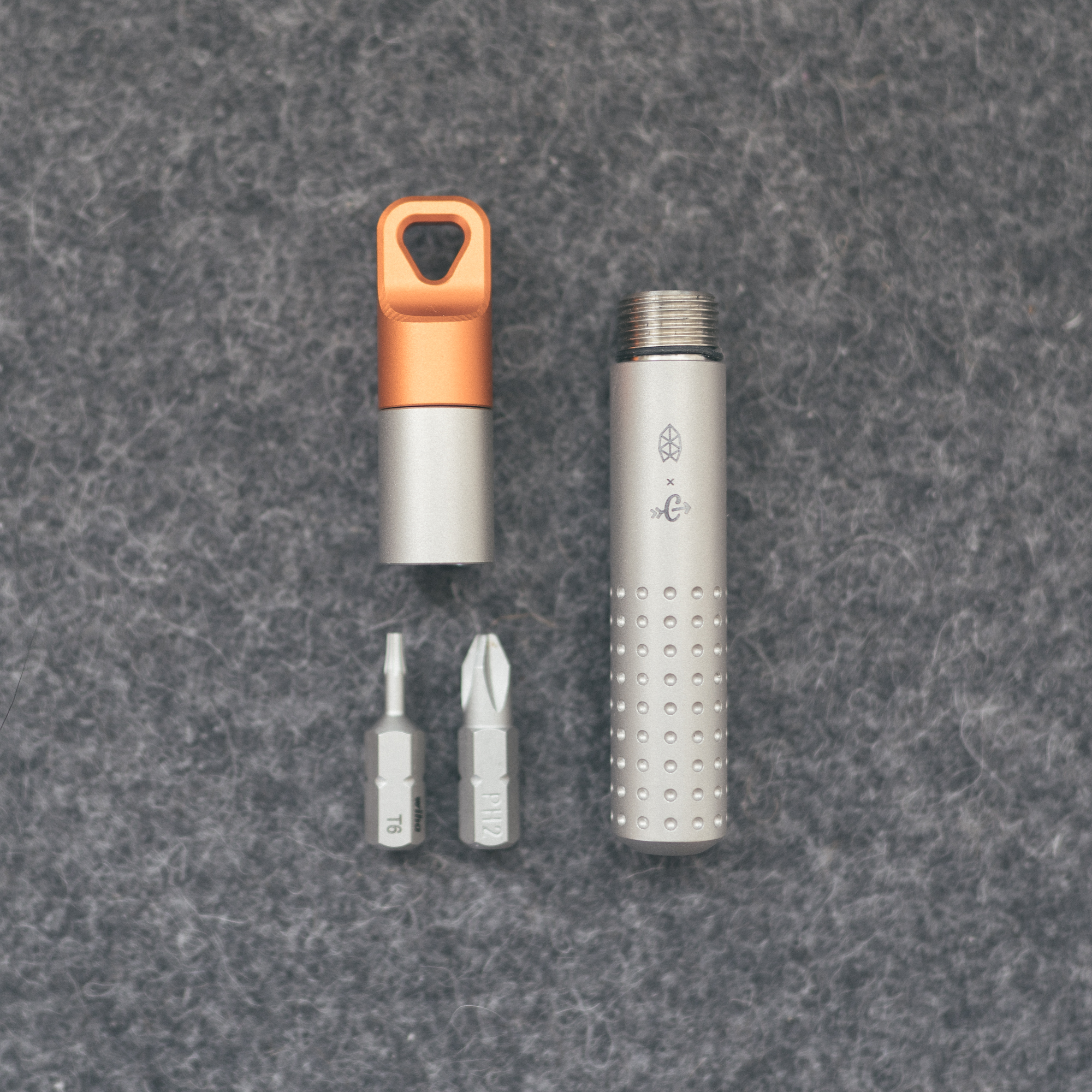 Unscrewing the tool reveals two included hex bit tools - a Wiha Phillips #2 screwdriver bit & Wiha Torx T6 bit. As the tool can take any standard hex bit, it's possible to swap these out for whatever combination one might desire. Even with these two bits inserted, it is still possible to include something thin and small - such as a rolled up money bill for emergencies (the suggested use case by Carrylogy and James Brand). When closed, the tools do rattle slightly inside, though again, rolling up a paper bill around them inside of the case will lessen this rattle.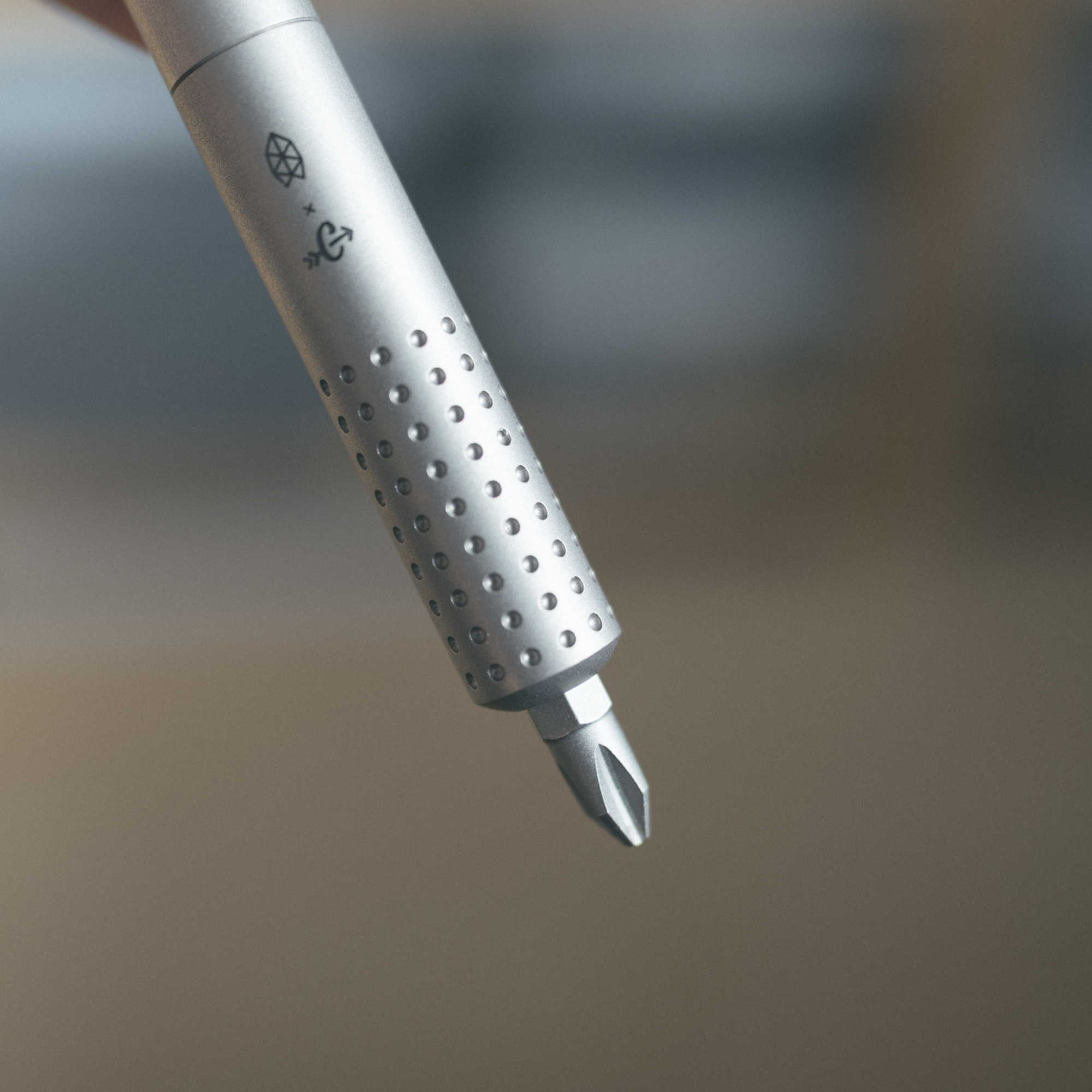 When "deploying" the tool, the user is meant to unscrew the two halves, remove a bit from the inside, insert it into the external bit receptacle (where it is held magnetically) and then re-screw together the two halves. Then, using the entire body as a handle, one can ostensibly use the tool as a screw/torx/etc. driver. As previously mentioned, a portion of the upper tool rotates, and when the tool is held in the hand, this portion can be held affixed in position by the palm and the ring/pinky fingers whilst the thumb and other two fingers rotate the front 2/3rds of the tool to screw/unscrew the target, using the dimpling on the front of the tool for purchase.
So, this sounds great in theory, but unfortunately in reality things quickly fall apart. In use, it immediately becomes apparent that it's extremely difficult to get any type of purchase or torque with such a slight tool when driving anything other than perfectly oiled and fitted screws. The small dimpling on the front of the tool - whilst looking good - is insufficient for holding a grip when trying to apply torque to the tool (and it quickly becomes apparent why most screw drivers are either coated in rubber or made of plastic with deep grooves/channels). More dammingly, the "rotating" portion of the tool - which in theory might improve functionality as mentioned above - turns out to be actively harmful. Since it rotates, it effectively means that one cannot apply torque to a full 1/3rd of the tool - instead of being able to wrap ones entire palm around the whole tool to really bear down, instead one is limited to using the front 2/3rds of an already small tool via the thumb and first two fingers.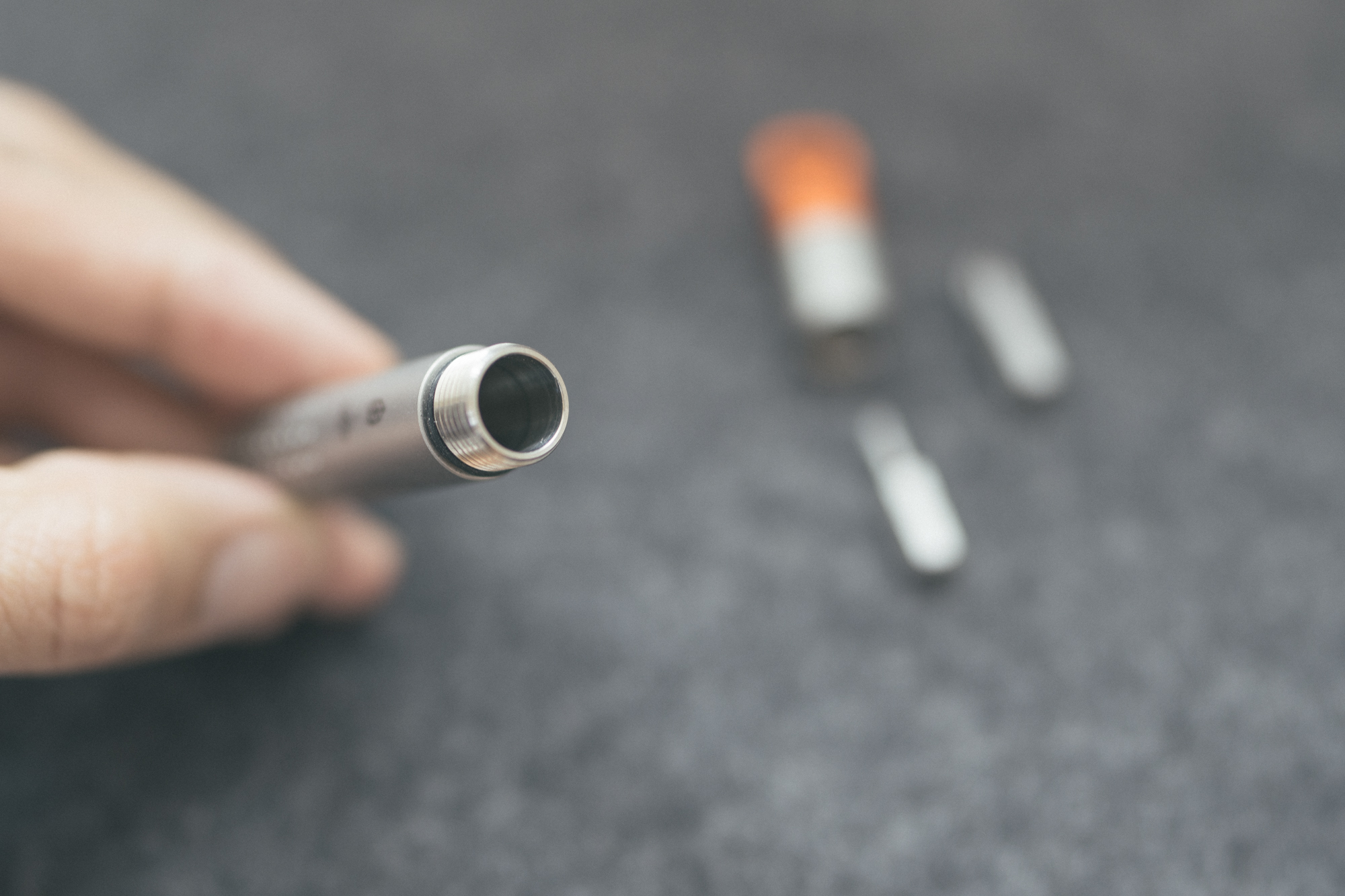 In practice, this means the tool is quite limited in its capabilities - we tried using it around the house to do things as simple as help assemble a small Ikea table or unscrew some shelves and due to the issues above it proved quite useless. Beyond constantly camming out or simply being unable to accomplish the job, the tool also induced a serious case of hand cramps. In all cases we quickly gave up and just ended up going with a simple dollar store screwdriver that accomplished the task in a few seconds and without any problems.
The other main functionality of the tool - as a storage cache - works well enough we suppose, though in reality we have a hard time imaging brining this along simply to carry some emergency cash on us. There are far better ways to reliably carry emergency cash (and probably more of it) than the Bit River Cache and the idea that one would not have access to that cash - but still have access to the Bit River Cache seems… a bit far fetched to us. One could ostensibly remove the bits and store things such as an emergency match or two, or possibly a few small medicine tablets, we suppose?
Overall, while we think the design is smart and sleek, we were quite disappointed with the functionality in practice - much like the Ellis pocket tool, we think the Cache River is an idea that sounds better in theory than in actual execution.
Pricing
When looking at the James Brand x Carryology Rover Capsule collection, the rather steep $275 USD (+shipping) price has to be taken into consideration. There are two ways to look at this - the first being, how much would it cost to purchase these items separately?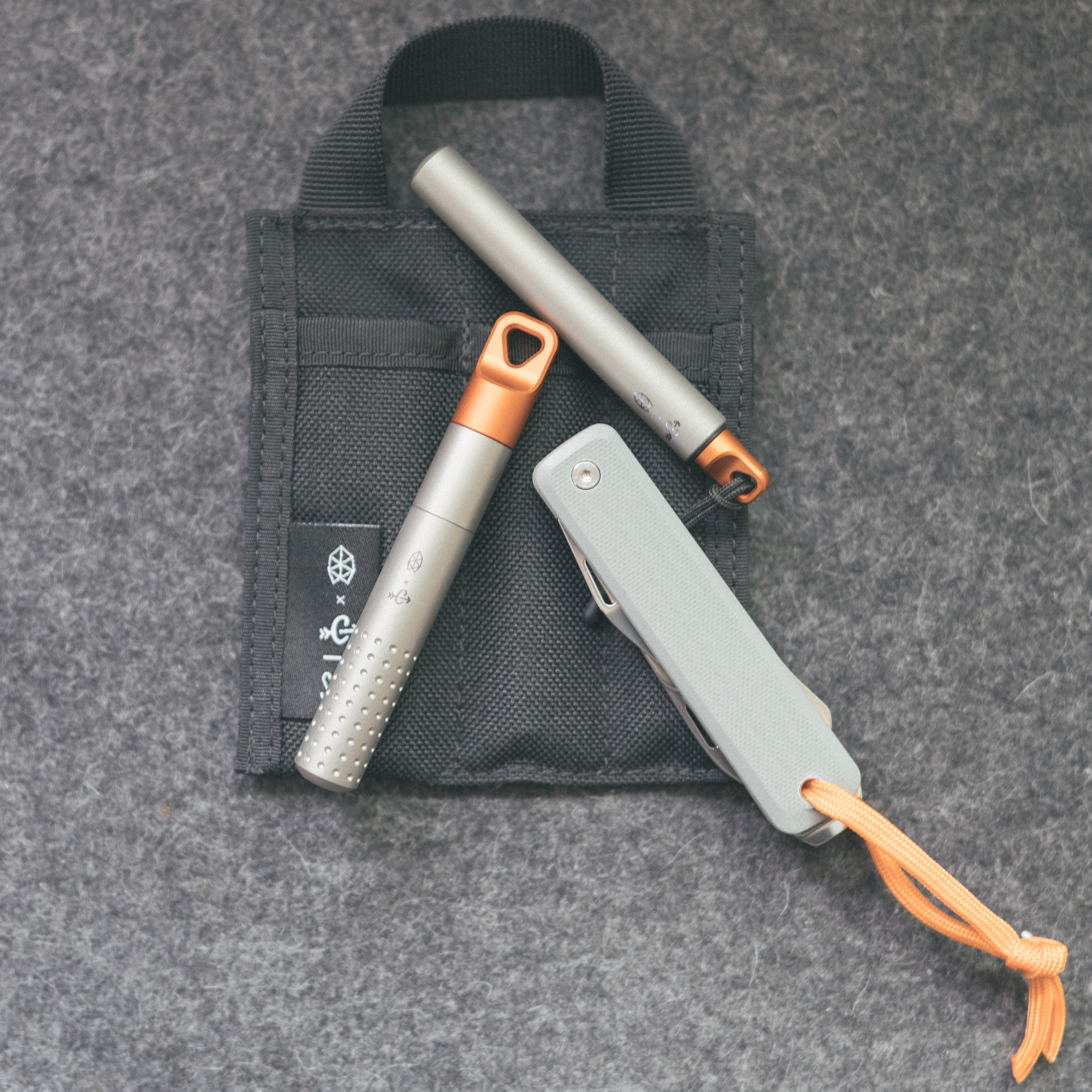 From this perspective, a normal Ellis pocketknife retails for $99 USD, a normal Stillwell retails for $85 USD and a Skinth P3 retails for $30 USD. With the price of the Rover Capsule coming in at $275 USD, this means the Cache River Bit Driver costs "only" $61 USD which we think most people would consider a fair price for a unique and well-built (albiet of so-so actual functionality) tool, especially one that is not available outside of this collection. Additionally, there is some certain amount of premium presuably attributable to the limited-edition nature of this collaboration so from this perspective, and assuming one is in the market for this precise set of tools, this is actually relatively fairly priced.
The other perspective however, is one that starts with the idea that The James Brand is overpriced from start, at least in terms of a functionality-to-price (or "bang for your buck") point of view. A few different reviewers on the internet have referred to TJB as "hipster EDC" and a brand that makes things "you'd love to receive as a gift but would never buy for yourself." While we did buy this for ourselves with our own money, it is easy to see where this sentiment is coming from. And while a lot of this perspective comes from more serious knife-enthusiasts, as our own experience proves, there is a strong and painful gap in actual functionality in at least two out of the three tools in this set, and in each case they were handily outperformed by simple alternative that cost a mere fraction of the price. And from this perspective, the $275 USD price point is completely overpriced.
For us, the truth lies somewhere in the middle. When making this purchase, we placed a heavy premium on the design and appearance, and to a certain extent the material choice and were willing to pay a certain amount for this. We bought this more to belong to our collection and honestly, to look good in our domestic EDC rathe than to traipse the world with this in our carry-on and with the expection to get heavy, serious use out of the tools. But even from this very biased perspective, we were still a bit disappointed to see just how useless a few of the tools were in actual practice and its hard not to feel that it's somewhat expensively priced (if not necessarily over-priced) for what it is.
Thus, for us, while we don't outright regret the purchase, we do feel it is still rather expensively priced for what it is. Our advice is that if you enjoy the design, look and feel and are purchasing more as a collectible then the premium is probably worth it. On the other hand, if you're considering this as a serious travel tool or for actual EDC functionality, then one is likely to be disappointed with what you get for the price point.
Conclusion
So in conclusion, the James Brand x Carryology Rover Capsule Collection is relatively stylish, relatively well-designed collection of tools that look pretty good, are made of relatively interesting materials but definitely do a better job of looking good in a collection or on a shelf than actually being functional in real EDC situations. There's also significant concerns about the actual core "travelability/carry-on-ability" of the Ellis tool in particular.
Nonetheless, for serious carry fans (or Carryology fans) looking to add something stylish to their collection, or for people who are willing (and able) to pay the premium for the design, or perhaps for someone looking for the perfect gift for such people, this could be a good, albeit expensive, purchase.
Design: ★★★★☆
Build + Materials: ★★★★☆
Functionality: ★☆☆☆☆
Organisation: ★★☆☆☆
Value: ★☆☆☆☆
Overall: ★★★★☆ (2.5/5 stars)
⤒ Back to top