Reviewing The Rofmia Shift Daypack V2
May 26, 2020
Top line Summary
The Rofmia Shift Daypack v2 is a sleek minimalist Japanese 22L EDC urban-use daypack made of 5oz Dyneema Composite Fabric (DCF). Made by hand by Rofmia, a small Japanese cottage-manufacturer based in Gifu prefecture, the main draw of this bag is the sexy material choice for the body fabric, however the myriad of well-executed details ranging from magnetic fidlock buckles to YKK Aquaguard zippers and impeccable craftsmanship keeps the attention even after the choice of body material. The small size and mix of moderate small organizer sections and larger main area, coupled with high weather resistance makes for a flexible use urban EDC bag with a distinct, but understated minimalist flair and intriguing combination of high-tech and traditional design.
The main shortcomings of the bag resides in its smaller size, and friction of interactions that require two hands and intent to get in/out of and of course the eye-wateringly high price of 65,000 JPY + shipping. Made in limited quantities, the Rofmia Shift Daypack v2 will likely be a carefully considered purchase for most of us, but also one that is likely to find a place in many people's list of "grail bags."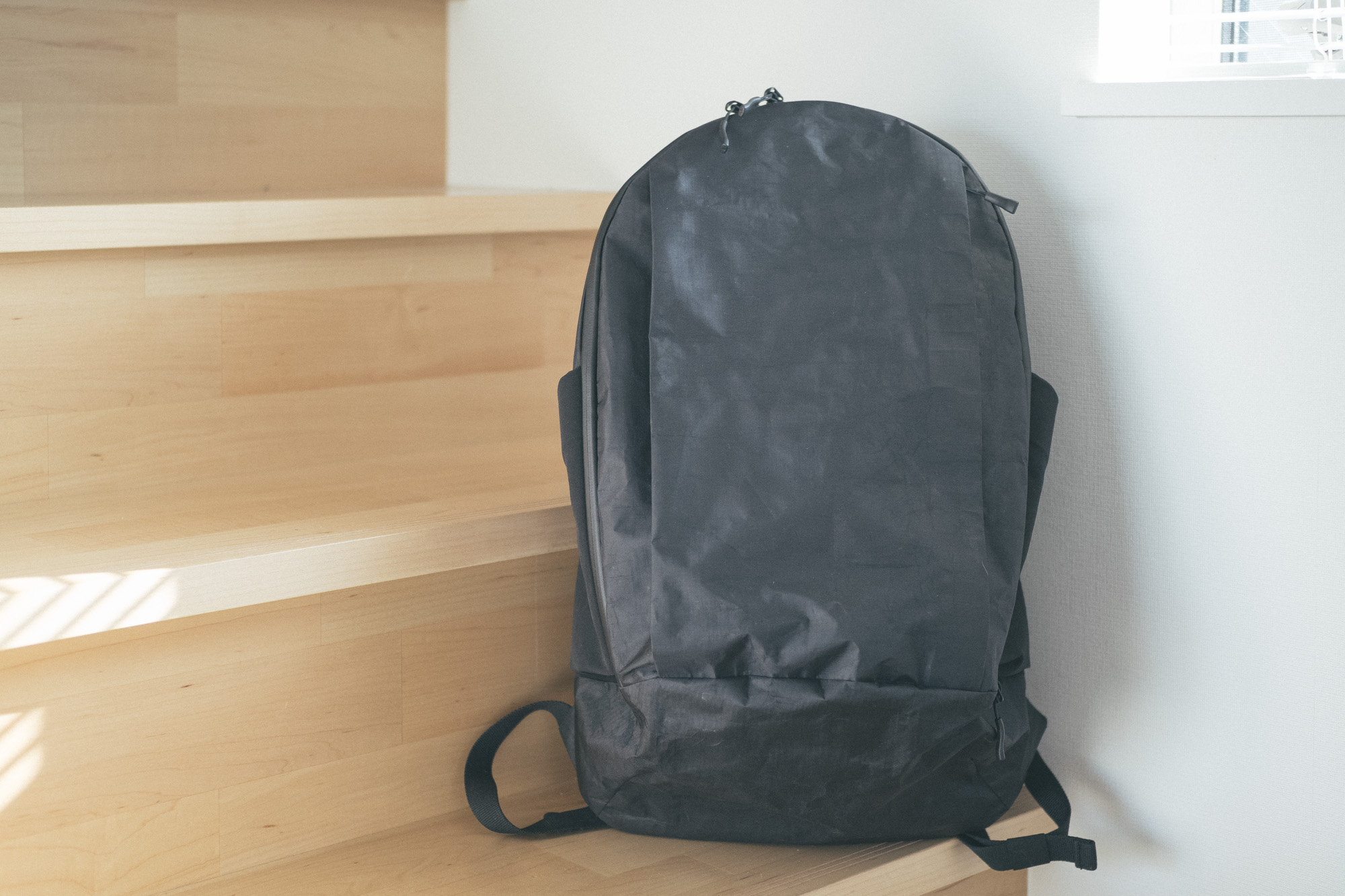 Who is it for?
Lovers of dyneema, minimalists with deep pockets, urban techwear enthusiasts and other urban dwellers with relatively light daily hauling needs, an appreciation for high tech materials and a wallet to match. As mentioned above, and similar to other high end minimalist packs such as the Veilance Nomin pack, this could potentially be a grail bag for serious carry enthusiasts.
Who is not for?
Though made of dyneema, this bag probably will disappoint anyone looking to use it for hiking/moderate+ outdoor use as it's simply not designed for that. Additionally, given its slighter size (on the smallish side of 22l), it makes a less-than-ideal choice for people who need to haul a lot of stuff on a daily basis or for one-bag travelers. Finally, for those on a tight budget or who aren't willing to pay a (hefty) premium for design/material choice, there are countless other options out there which will give a much higher value for (far less) money.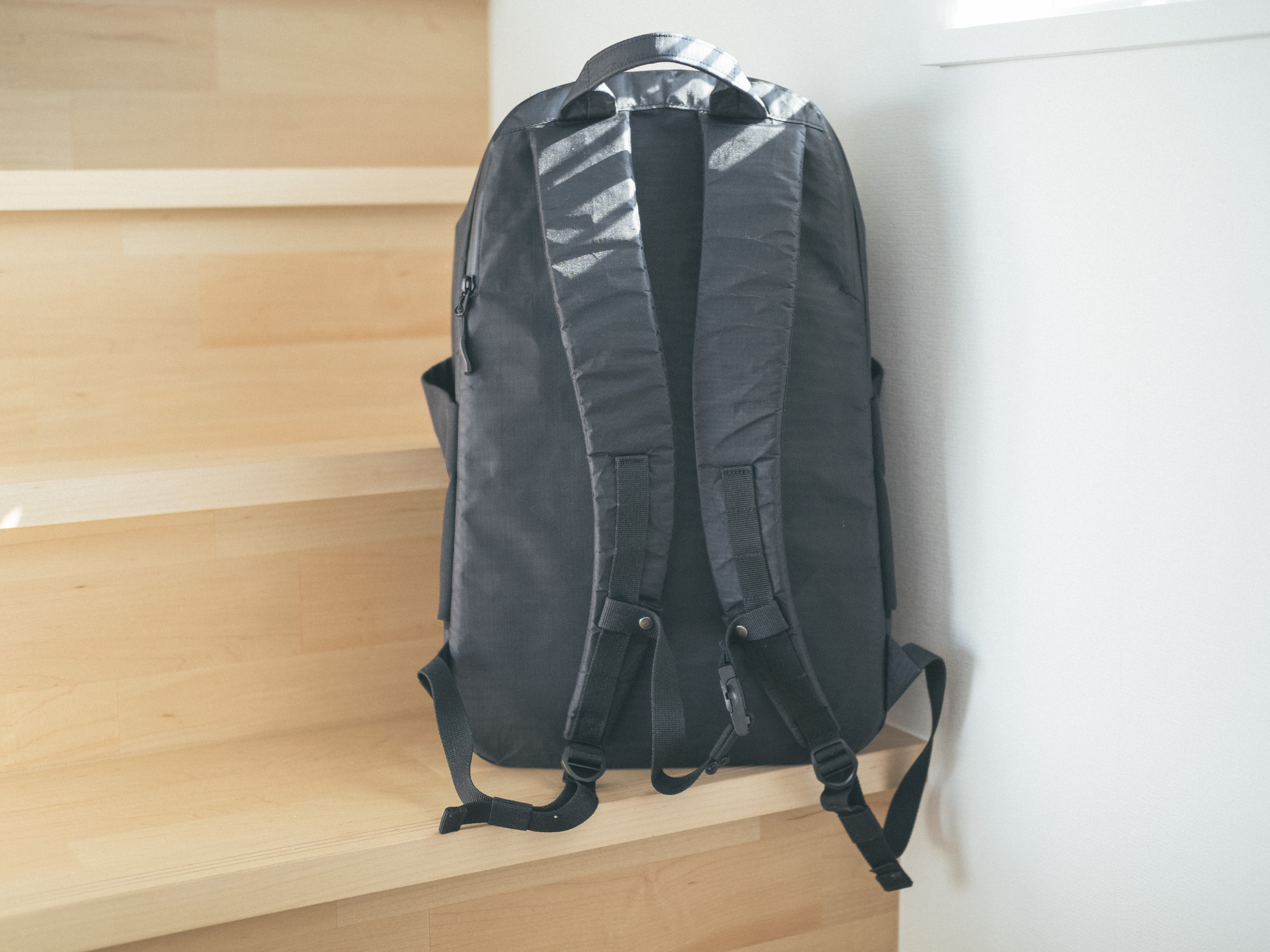 Overview
We've had our eye on Rofmia for some time now, ever since they released their (now sold out) original line of Shift-series Dyneema packs. While we loved the lines and materials they were experimenting with, we ultimately didn't pull the trigger at the time due to a few compromises that were difficult for us to accept at the (high) price point.
This changed recently with the release of the Shift Daypack v2. While keeping the same DCF construction and intriguing blend of traditional design and techwear minimalist asthetic, it features more organization, slightly cleaner lines, and better functionality (for our needs) than its predecessor - enough that we could finally justify the 65,000 JPY selling price.
We've had the pack in our possession for a couple of weeks now and had some opportunity to lightly test in around Tokyo, though obviously not as heavily as we would normally due to the overall lockdown from COVID-19.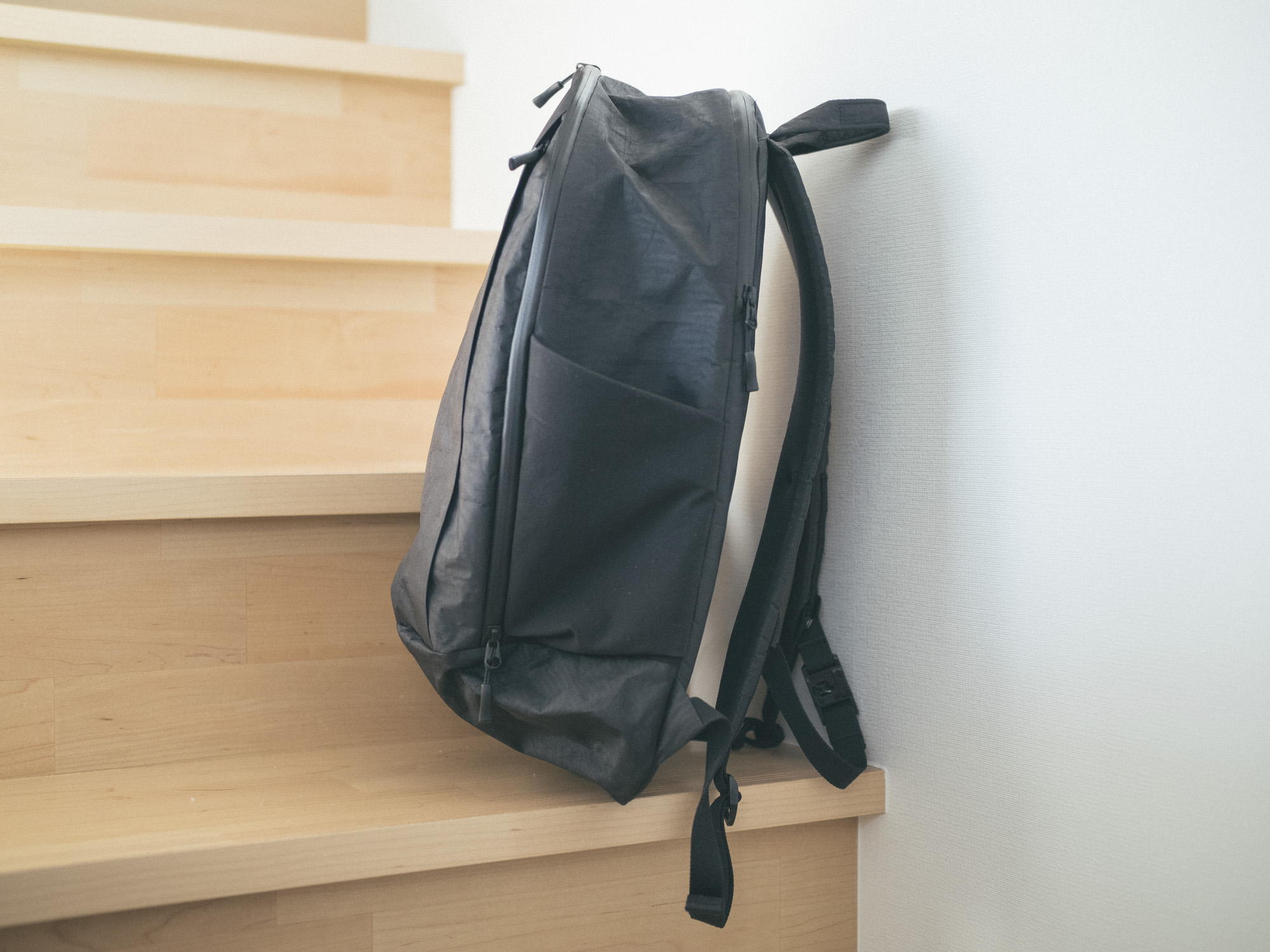 Design
As mentioned, the pack is made from an all-black 5.0oz DCF that feels quite robust. The material itself feels right around on par with the DCF 150 used in bags like the HMG Daybreak or Metro and fresh out of the box features much cleaner lines than either of those bags and holds its shape whilst empty - partially as a result of the construction which features some subtle folds and angling in parts of the bag. As we've used the bag the material has started to soften and develop a slight droop in some places, which is to be expected due to the nature of Dyneema .
The carefully considered choice of materials doesn't stop with the body fabric either - the bag features YKK AquaGuard zippers, a nimble fidlock slide sternum strap buckle and strong double-walled mesh pockets on the outside which feel as good as anything Evergoods has ever put on their bags, as well as a slightly stretchier single walled mesh on the inside which feels better to our hand than the flimsier mesh found inside of many of Bellory's higher end bags.
There's clever details throughout as well - simple elastic strap keepers prevent dangling from the small, but pleasantly firm shoulder straps, a small piece of reinforcement sewn between the dual layers of the top of the external water bottle holders make it easy to utilize the pocket with a single hand, simple and small black zipper pulls feature a slight curve that makes them easier to grasp and finally the inside of the front slash pocket features a slanted internal holder to retain a mobile phone at an angle for easy insertion/withdrawal upon opening the pocket.
The bag features three zippered openings and 2 external water-bottle holder pockets1. The front slash pocket runs the vertical length of the front panel with a single zipper hidden by a subtle pleating (which, alongside the matching pleat on the other side give some subtle dimensionality to the front pocket. The main compartment has an interesting 3-zipper-pull opening which looks better than it actually operated (more on that in a moment). The back laptop compartment features a single 1-way zipper with no pleating (but like all the zippers, it is YKK AquaGuard) with a simple folded and sewn (for stiffness) grab handle at the top.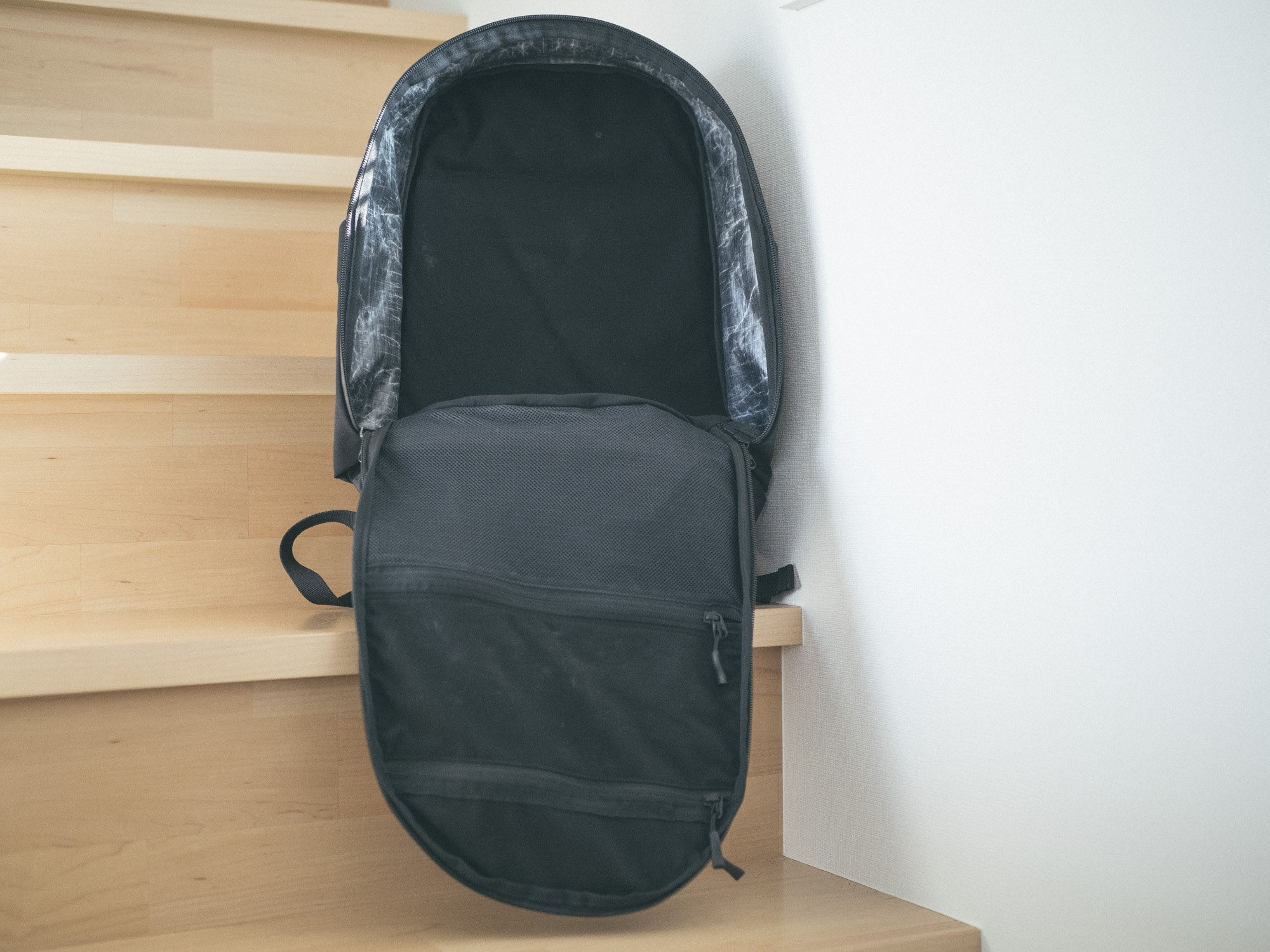 The inside of each compartments feature what we would regard as a pleasantly-moderate level of organization. Inside of the front zip panel there is a single angled pocket that is sized to hold most modern smartphones in a way that positions them for easy access when unzipping the bag - this is a nice touch compared to most bags which tend to avoid having any internal organization for front zip pockets.
Opening the main compartment (which zips all the way to the bottom and flaps open, clamshell-style) reveals two internal zipper pockets on the inside of the front flap - a smaller one at the top made of the same durable opaque mesh as the outside water bottle pockets and a somewhat larger one with a larger opening see-through mesh the bottom. This is a common organizational scheme found in many bags such as the GoRuck GR1/Heimplanet Monolith 22L and so forth, and it works well here. The remainder of the inside of the main compartment is devoid of organizational features unless one opts for the internal water bottle holder at order time, in which case that will be present.
Moving to the back laptop compartment, this is sized well to hold both a laptop and a few documents. Given the stretch and light padding of this area it is possible to fit both a laptop and a tablet in this space. Technically this area features a false bottom and can accommodate up to a 16" MacBook Pro, but there are some compromises, as will be discussed below. The top portion of this compartment has a shallow zippered internal compartment made of the same mesh as the outside pockets - this will just barely accommodate a MacBook charger and mouse due to the stretch of the materials.
Pulling back to look at the bag overall, it is clear to see that it falls on the smaller side of 22L - it worked for us as a daypack, but for larger sized individuals the bag could both not fit right and also potentially look awkward. The bag hews largely to the traditional "backpack" design from the overall silhouette to the way the shoulder strap attach tot he body, but also with some modernizing touches (other than the material) such as the slightly angled and upward sloped bottom panel that pushes the load closer to the wearer's back when worn (albeit at the cost of being unable to stand upright on its own).
One final thing to note regarding the design is the very high level of execution and attention to detail in this bag (as we have come to expect from Japanese craftsmen) - it's expensive, but you definitely see that reflected in both the materials and the beautiful hand-made construction of this bag.
Functionality in Use
With much travel and daily life relatively restricted due to the COVID-19 pandemic, we've only been able to test the Rofmia Shift Daypack v2 in a limited fashion for everyday life for a couple of weeks. Nonetheless, this has been enough to reveal some of the strengths and weakness of the bag in terms of functionality.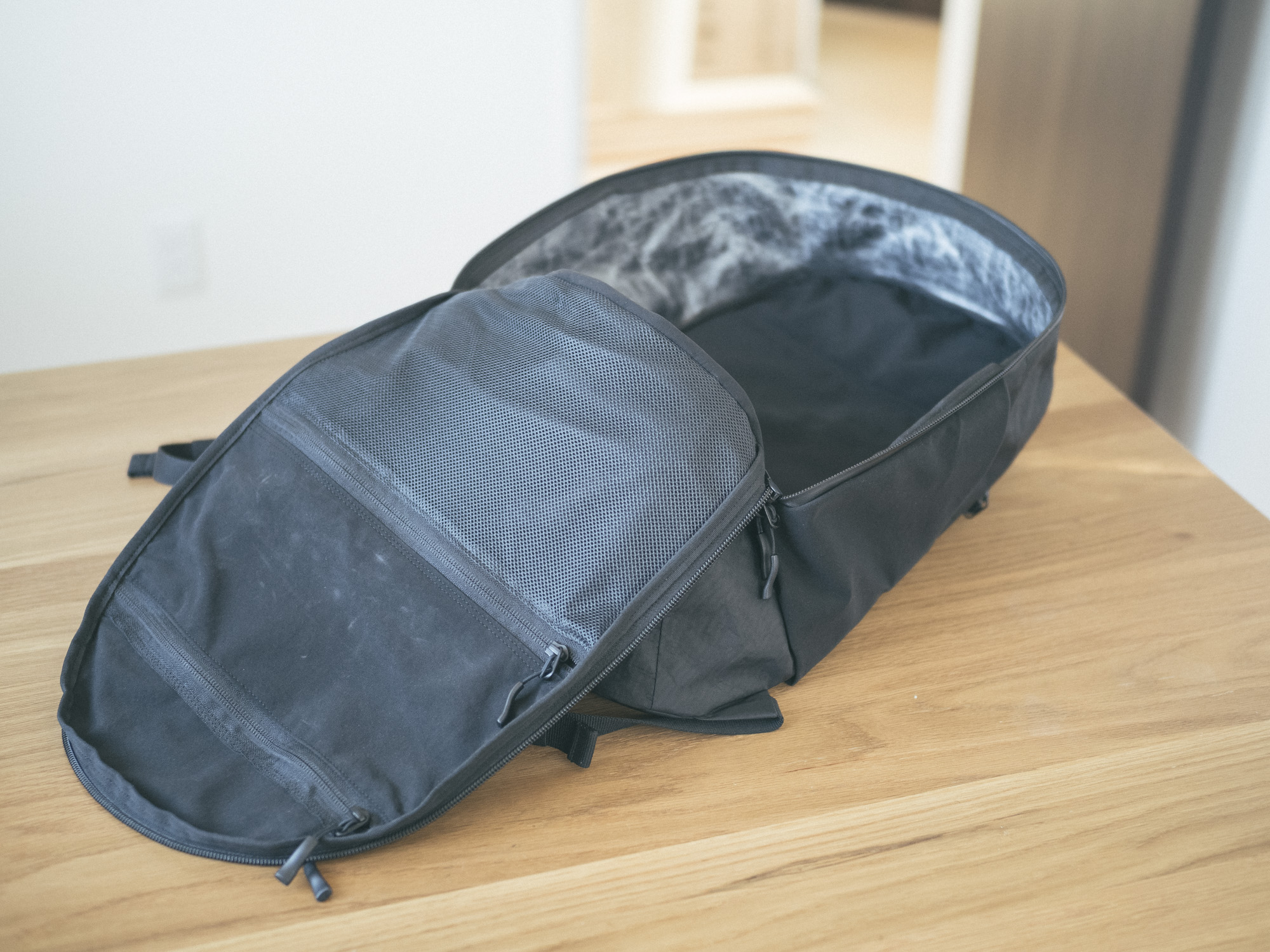 Highlights
In terms of highlights when it comes to functionality, much of it comes from the material choice of DCF - the slight stiffness of the material means that it tends to hold its shape whilst empty without needing to resort to heavy sidewall padding or unnecessary construction - this makes it easy to hang the bag off of a table (with a HeroClip) with the front flap open and access the contents with relative ease - similarly when swinging the bag around on one shoulder, it's relatively easy (once the bag is open) to load in/out a light shell or other items. And whilst the nature of dyneema means that some of this structure will "soften" overtime, based on other DCF bags we own even with fairly extensive use it will still likely retain enough structure to preserve these properties over time.
Similarly, the DCF material, coupled with the use of YKK Aquaguard zippers on the outside means the bag is highly water resistant - we had no problems walking in a mild Tokyo rainstorm with this bag and the contents did not get wet. On the other hand, the seams are not taped and the zippers lack zipper garages so during a heavy rainstorm or sustained downpour it is very likely water will ingress into the bag - this bag is (highly) "water resistant" but not "water proof".
Other high points in terms of functionality come from the shoulder straps which we found to be firm and tight whilst not being uncomfortable - for the types of loads this bag should be used for they are more than sufficient and despite the lack of a more ergonomic shaping to the back panel (versus say, what Evergoods does with most of their bags), the bag tends to ride close and tight (but not necessarily "high", though it also does not sag, which we like) to the body. Combined with the relatively small size, this makes it a very pleasant bag for navigating crowded urban environments.
The sternum strap is also a highlight - the snaps that hold it in place to the laddering are easily adjustable without coming undone unlike many bags that resort to "push through" type toggles that often can work their way out and risk losing a sternum strap, especially when unclipped and navigating crowds. (See again, Evergoods). The laddering on the shoulder straps is also simply but very well executed in our opinion - functional, minimal, sleek and not at all obnoxious (see: GoRuck). Finally, the vertically sliding magnetic Fidlock buckle for the sternum strap is a wonderful choice that is fun to snap/un-snap into place. We like the vertical opening/closing nature as opposed to the horizontal type of Fidlock buckles.
We also found the frame sheet of the bag to be a good balance between adding some moderate firmness and structure to the back panel (as well as moderate protection for and from the internal contents of the bag) whist not being overly stiff (GoRuck) or weirdly shaped/floppy (Bellroy Transit bag, Apex bag, etc.). It's also easily accessible via a simple internal Velcro flap so one could probably swap it out if preferred.
In terms of accessibility and organization in practice, we liked that the main compartment opens up quite wide at maximum zipper extension, allowing loading more or less like a clamshell style bag, and the two internal pockets in the front flap are well sized to carry a fair amount of small items without overwhelming the inside flap or disrupting the overall structure of the bag/self-stiffness of the DCF material.
Finally, in terms of highlights, we liked the dual external water bottle pockets2 which were well constructed and easy to use due to the excellent double-mesh and internal flexible reinforcement around the opening.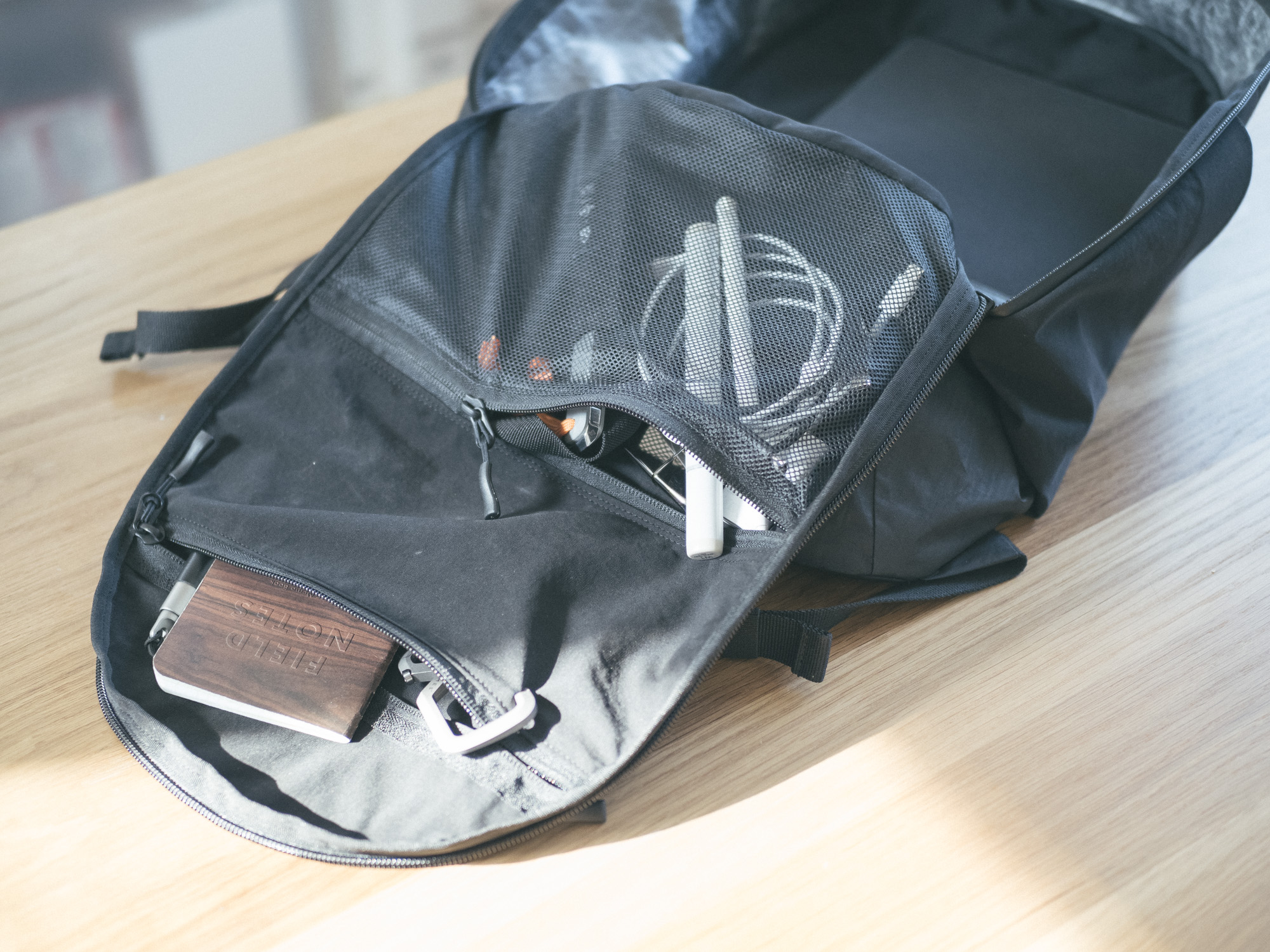 Weaknesses
The Rofmia Shift Daypack v2 also has a few shortcomings as well. Starting with the main material of the bag, it's important to note that whilst the waterproof nature of DCF is generally a good thing, when it comes to the simple, flat back panel, this also means the bag will be extremely sweaty against the wearer's back on any type of hot day. In keeping with the simple aesthetic, there is no contouring/mesh padding or "air channels" on the back3, but whereas most other types of materials will have at least some ability to absorb perspiration/humid air and thus provide some incremental amount of comfort on hot sweaty days, this is not the case with DCF - all the sweat and moisture will stay pressed up flat against the wearers back. An unavoidable compromise given the aesthetic and material choice, but still worthy of a (small) mention.
A much larger shortcoming of some of the design choices driven by the aesthetic results from the decision to use relatively small YKK AquaGuard zippers on the outside of the bag. Simply put, it is quite difficult to use this bag one-handed. The combination of small zippers with high friction means every time one wants to get something out from the bag, they need to awkwardly sling it from one shoulder and try to grab the various zippers with two hands (the lack any type of additional tab on the opposing side of a zipper as commonly found in other bags (Aer, Evergoods, etc.) for additional purchase makes this even harder, though again, an aesthetic decision) or more often than not, set the bag down on the ground and try to wrangle it from there.
And in truth, one will be setting this bag down a lot in everyday use - which is where the decision to use a sloped bottom (both for aesthetic and push the contents closer to the wearer's back when worn) means the bag cannot stand up on its own. This means that when using the bag in and around the city, there will be a lot of setting it down awkwardly leaning against a counter propped up by your feet as you try to pay at a counter at a store, etc.
Besides requiring two hands to open, the slight nature of the zippers and the increased resistance of the AquaGuard tracks means that they also provide a lot of friction when opening and closing - the stiffness of the Dyneema material helps some, but there's still a lot of binding and catching (especially around rounded corners) involved - the zippers will catch on the bag material and this means opening/closing always requires deliberate care and attention. The zippers also feel a bit fragile (though in reality they will probably hold up fine as long as not overly abused) and often fussy - contrast this to strong #10 YKK (non-AquaGuard) rack and coil type zippers in bags by companies like Evergoods and its evident the lack of "yank ability" negatively impacts the ease of everyday use in the Shift Daypack v24. We understand and appreciate the aesthetic requirements that drove the decision to use the chosen zippers, but also strongly believe that friction - especially when present in core/essential and oft-used functionalities - are one of the strongest contributors to poor overall user experience in any product or software. So it's something that needs to be considered at this price point and for something that aims to be an EDC-use bag.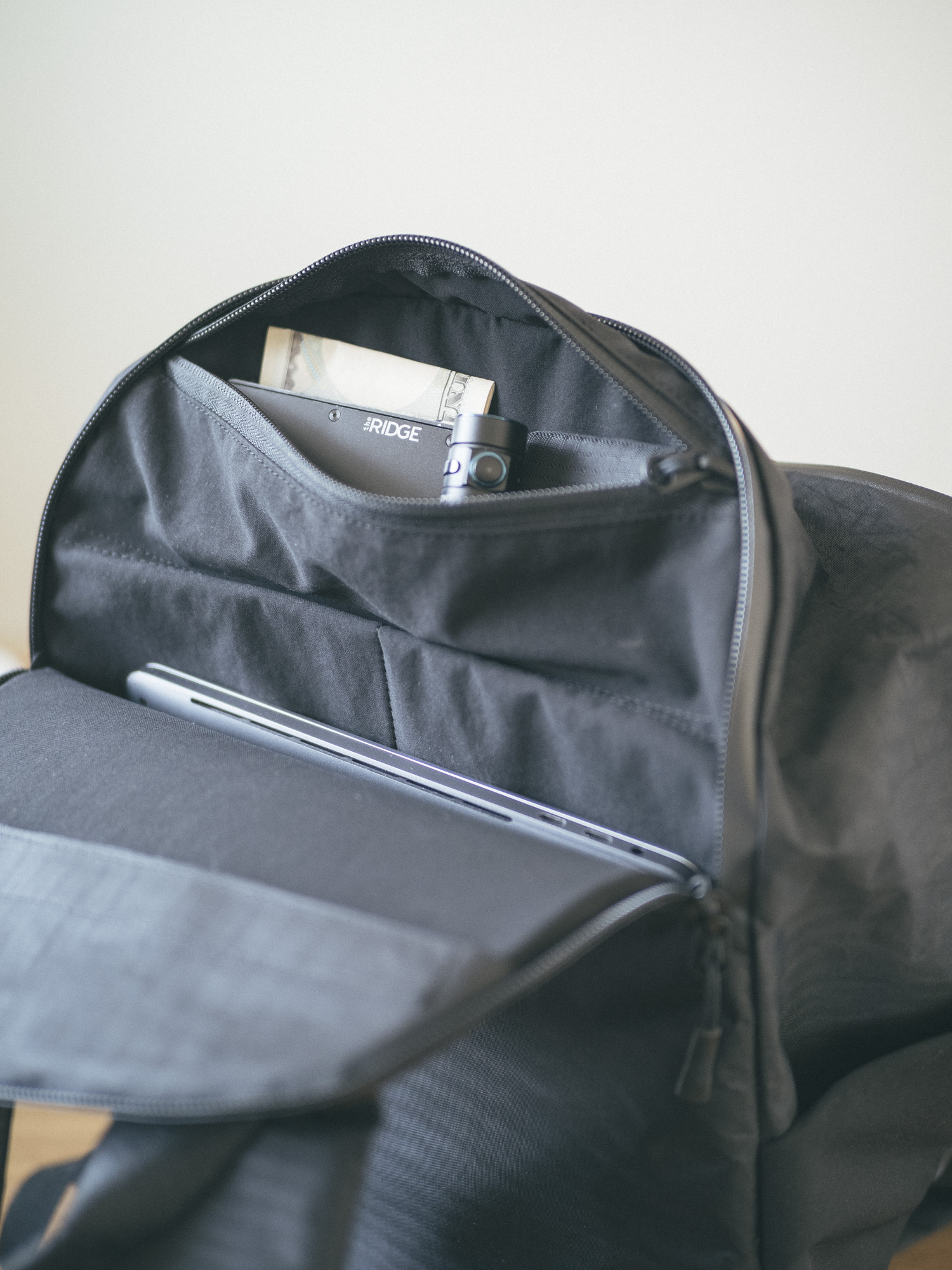 As previously mentioned, the bag also has what we consider an appropriately moderate amount of internal organization that for the most part works well, but still has a few key shortcomings. The first that we quickly noted was the lack of a tether/keeper for keys - depending on one's load out, there's no immediately obvious, area to easily store keys whilst still keeping them secure and relatively easily-accessible. We resorted to storing ours in the front zipper pocket, but the fact that this zipper opens all the way to the bottom without any "lip" means we always need to be careful that our keys do not fall out when we access this pocket. This is annoying enough that we're considering modifying the bag to sew a small key tether into this pocket which would solve this problem and greatly improve the functionality, in our opinion.
Speaking of the front zipper pocket, while overall we appreciate the internal angled phone pocket in this area, we did notice that when the bag was set down (as one often must do in everyday life as mentioned above) or else slung around the shoulder, depending on the contents of the main compartment, the buckling/bending of this area means it's actually quite difficult to slide a phone back into this area without again, using two hands. A minor annoyance.
Moving towards the back laptop pocket, we liked that there was a small internal pocket at the top of this compartment, ostensibly for a mouse / laptop charger, but in practice we found that this pocket was annoyingly shallow - there's stretch to the mesh material which means it can accommodate a mouse and a moderately sized laptop charger (such as an Apple Macbook charger - PC users with massive power bricks will have to store them in the main compartment), but if the pocket had just a bit more depth/dimension/height it would be incredibly more useful - as it is, one needs to be extremely careful when putting things in/out of this pocket (especially when slung around the shoulder) to avoid spilling the other contents of the pocket. Keeping with a developing theme, actioning around this pocket needs to be deliberate and careful, which introduces friction in EDC use.
The laptop pocket additionally also technically has a false bottom, but in reality we found that given the softness of the back panel insert and lack of padding in the sidewalls/bottom of the bag, any inserted laptop will likely hit the ground with some force if the bag is set down without care (again, all actions with this bag require careful deliberation and care, introducing friction). This is less of a concern with smaller laptops (12" rMB, MacBook Air, 10.5" iPad Pro) and more of a concern with larger laptops (15"/16" Macbook Pros for sure).
Pricing
When considering this bag, one of the points most likely to come up is the price point. It is undoubtedly expensive - as mentioned, at 65,000 JPY + shipping it is actually one of the most expensive bags in our (extensive) collection - actually out-pricing the overpriced Bellroy Apex, and coming dangerously close to the Veilance Nomin pack's price point. It's also considerably more expensive than other DCF bags we own, such as the HMG Daybreak or even the specialized mountaineering-oriented DCF-edition of the Millet Trilogy 30L.
So while it is clear that this bag is exceedingly expensive - beyond even the price points for most DCF bags - we must balance this against the fact that this is small-batch cottage industry product, literally handmade one at a time by a single Japanese craftsman. And there is a premium that comes with this - supporting small businesses and one man's goal to realize and market his vision of how carry should be designed and executed.
Given the high degrees of design and functionality and the fact that this bag is eminently usable in EDC situations, we feel that if one can afford it, this bag is worthy of its price point. It's undoubtedly a "grail" bag - to be considered potentially in the same league as the Veilance Nomin (albeit slightly less expensive) against which we believe it can hold its own, or the similarly-priced Bellroy Apex (against which we believe the Dayshift V2 is the superior bag for the money, especially in clarity of vision and refinement). For those who can swing it, we believe this will be a purchase they will be happy to not only keep in their collection but also use in their regular everyday lives with good results.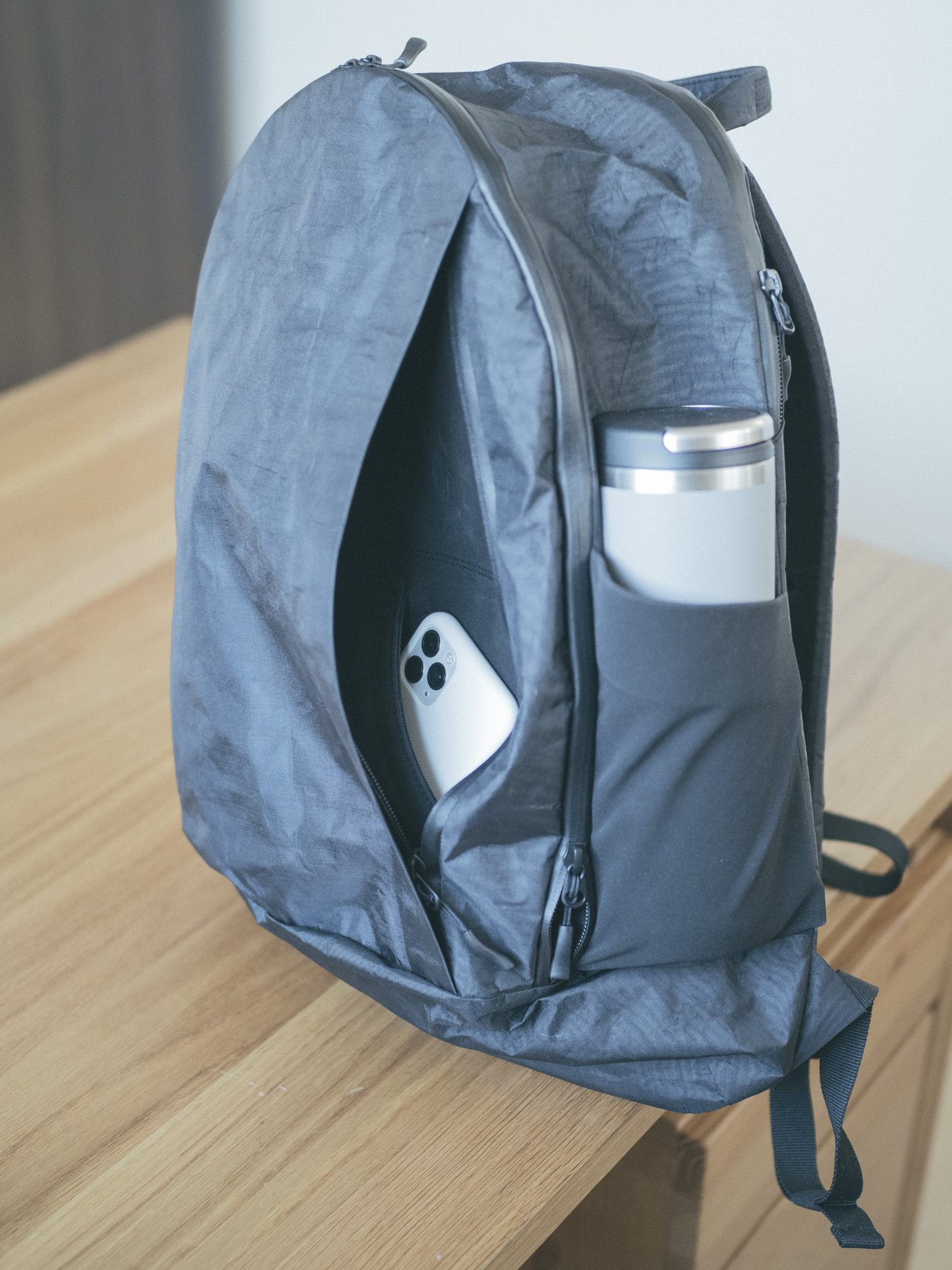 Also Consider
By this point we've mentioned a few other bags in passing, so it's worthwhile to elaborate on a few other relatively similar packs that one might consider instead of the Rofmia Shift Daypack V2:
Conclusion
So in conclusion - what do we think of this bag? Simply put, we really like it. It is a great looking bag that is exceedingly well executed in design, material choice and details. While there are some compromises and areas of friction in EDC usage, we still find the bag to be highly functional and very well balanced between the design, functionality and aesthetic considerations underlying its concept. The bag is expensive, but as mentioned above, it compares well to many of the other bags in this price range and its execution, design and material choice means it is well placed as a "grail" bag in any collection that is still imminently usable for actual everyday carry.
Design: ★★★★☆
Build + Materials: ★★★★☆
Functionality: ★★★★☆
Organisation: ★★★★☆
Value: ★★☆☆☆
Overall: ★★★★☆ (4/5 stars)
⤒ Back to top